White Arrows Concert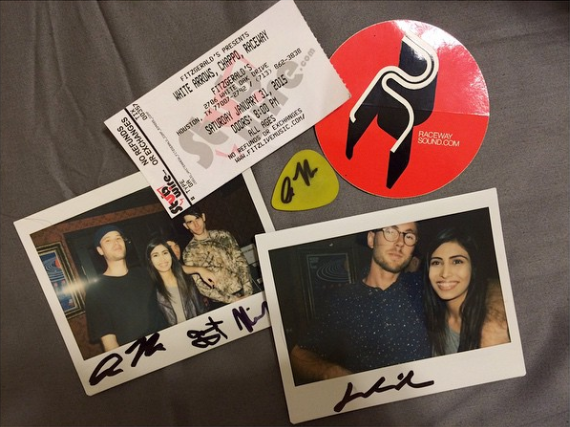 The first time I had seen or even heard of White Arrows was when they happened to be one of the opening acts for The Neighbourhood at Bayou Music Center this past summer. Being from more of a "psychedelic-pop" genre, most of the crowd seemed to be immediately intrigued.
The second time around, there were familiar faces in the crowd from the first time and being able to meet them before definitely heightened my anticipation for the night. They were the nicest people I have ever met; they were insanely easy to talk to and genuinely passionate about being there amongst teenage girls during their meet and greet session and sharing their craft with people who seem to appreciate music just about as much as the next person in the room.
There was something about the way it all came together when they started their set with "I Wanna A Taste," which happens to be one of my personal favorites. The entire crowd lit up and everyone seemed to move together in perfect unison. It's like the music had an effect on people that made them forget everyone behind them and fall in love with the moment at hand.
The set list on its own was perfection. Starting off with one of my favorites and then ending with an energy-filled "City Boy", that drove the crowd wild and ended the night perfectly.
Hearing them live, my favorites were definitely "Scream", "Get By", "Can't Stop Now" and obviously "City Boy". They all brought a sort of ambiance to the room that made everyone move around and become enraptured with the band all over again.
That night was a perfect reminder of how kind and enthusiastic musicians can be and how much I love music and how lucky I was to be there that night. It was also a perfect reminder of how much I love the crowd just as much as the people performing. How they love each other, connect with each other and know in the back of their minds that they all have something in common with the person standing next to them. Thank you White Arrows for a fab show in Houston; I hope to see you again soon.