In fashion, if you're in the right season, you're a season behind. The spring/summer 2013 collections have already rolled around even though the weather is just cooling off. Let's take a look back to Fall 2012 to find inspiration for the winter months ahead.
THE OVERSIZED COAT
Even though we're from Texas and outerwear isn't exactly practical, I live for a good coat. As soon as I spot the first signs of fall (basically when the temperature falls below 75 degrees), I can't wait to dive into into the biggest coat I can find. Here are some ways to incorporate my favorite oversized coats from the Fall 2012 season into your wardrobe.
Story continues below advertisement
Derek Lam's Fall 2012 collection is, at first glance, a major throwback to the 60s. But as the peacoats, cat eyeliner, and pointed heels continued down the runway, the collection began to evolve into a more modern, present wardrobe. This coat is the perfect example of mixing retro looks with current touches like smoky eyes and thick pumps. Get the look from Forever 21.
Chloé's Fall 2012 collection was, hands down, one of my absolute favorites of the season. The heavy knits, French details, and nearly washed out, feminine colors made this collection a definite winner. Chloé is known for their effortless but oh-so sophisticated looks, and this coat pulls everything together with such ease it's almost too perfect. Get the look from Asos.
Raf Simons' final collection for Jil Sander was totally stunning. The pale pinks, tans, and subtle grays over slip-like dresses gave off a feeling of uncomplicated luxury. The collection felt easy and natural, and this long, elegant coat (which is a Jil Sander favorite) pulls together a minimalistic, inconspicuous look that feels understated in the best possible way. Get the look from Asos.
THE MINI DRESS
Who says mini dresses are only for summer? Throw on a pair of thick tights under a mid-thigh frock and you should be good to go! I love mini dresses because they feel youthful and, when worn correctly, very appropriate for school. The Fall 2012 collections presented a variety of shorter length dresses that will inspire me for the next few months, even when it's chilly outside.
Phillip Lim is known for creating functional looks with sharp lines and gorgeous detail. This mini dress is no exception. The print is strong but the silhouette is classic, creating the image of a tough, modern woman with people to see and places to go. The tights warm up the look for fall and add to the practicality of this simple and wearable dress. Get the look from Ruche.
Balmain has always been fantastic at creating heavily textured pieces with an edgy feel. The Fall 2012 collection was marked by heavy trousers, mid-calf length velvet skirts, and expertly embroidered mini dresses. This dress was one of my favorites; the long sleeves, boxy shoulders, and higher neckline gave it a structured edge but the short length kept it from being too much. Get the look from Asos.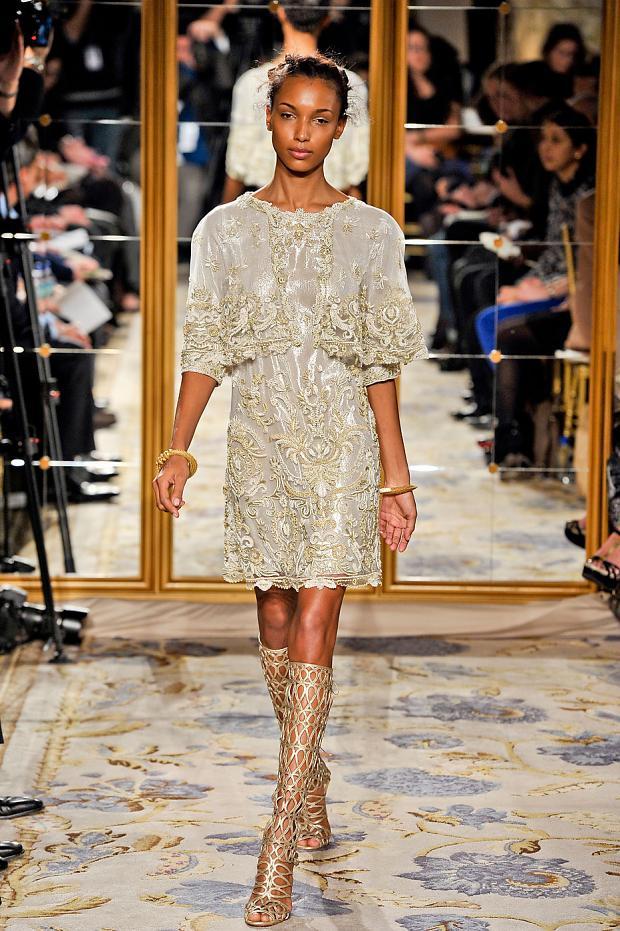 Marchesa's Fall 2012 collection was, to put it simply, absolutely beautiful. From the gold embellishment to the elaborate skeletal details, every single look was undeniably breathtaking. The ethereal vibes were complimented with braided up-dos and sleek gold eyeliner. Although not as mini as the other mini dresses, this look brings a touch of the warmer seasons into fall perfectly. Get the look from Asos.
All runway photos from Vogue UK