Howdie Caroline Burden!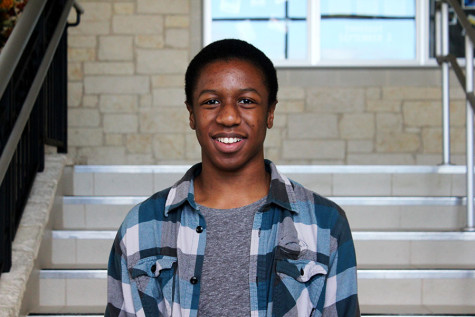 More stories from Haig Moses
Caroline Burden is a senior here at George Ranch High School, captain of the cheerleaders who cheered our football boys to state and president of the class of 2016. So, the Wrangler got to sit down with her to get a sense of what it's like to live her hectic everyday life.
The Wrangler: How is your senior year turning out so far and if you could, tell us something memorable that has happened to you this school year?
Caroline Burden: "Senior year so far has been cool. First semester's over so  now it's time for the 'fun semester' with Prom and Spring Break and all that stuff, getting ready for college. Something fun that happened was cheering for our football team at the state finals and winning. That was probably the most memorable part of my senior year."
The Wrangler: How do you balance all of your classes, cheer schedule, extracurriculars, etc.?
Caroline Burden: "Balancing my classes with my extracurricular activities has always been something I don't even know how I do because I like to take challenging classes and I also participate in a lot of extracurricular activities. I think it's just time management and taking care of what you need to get done and getting it done promptly."
The Wrangler: How did you think your senior year was going to come about and what is the reality of it?
Caroline Burden: "In my opinion, before senior year, I thought it was going to be the blow off. I wouldn't have to do anything. I would just have like a wild time, but the reality is, you gotta buckle down, you have to apply to all your colleges and make sure everything is going well still because you have to be ready for the next chapter."
The Wrangler: What are your life goals post-graduation? Are you attending college/university and if so which one and where? How are your steps to your acceptances coming?
Caroline Burden: "I do plan to go to college next year. I don't know where yet. I'm still waiting to hear back, but I plan to go into some sort of BA degree and my life goal – there's nothing concrete yet – but I want to do something where I'm helping other people and impacting other people's lives. And my steps to acceptance have just been working hard throughout high school starting freshman year."
The Wrangler: If any, what world change would you like to see in the years to come? Why?
Caroline Burden: "I think collectively as a society we need to become more open-minded and accepting towards other people who are different from us, so that's something I'd like to see changed."
The Wrangler: Looking back on your freshman year, how do you feel that you've changed and what advice would you give your past self?
Caroline Burden: "Since freshman year I think we've all changed a lot. Myself personally, I've become a lot less worried about what other people think of me and more confident in myself, and I would say to my past self to just, relax it's okay to just chill out."
The Wrangler: Who's your biggest influence/role model in life? Why?
Caroline Burden: "I think my biggest role model in my life are [sic] my parents because I model my mom because I think she's a really good-hearted person – and my dad too. My dad is really hard working, and he teaches me how to be a stronger person."
The Wrangler: What is the hardest situation you have gone through that has taught you the greatest lesson? What exactly did you learn?
Caroline Burden: "The hardest thing that I've gone through is a lot of personal stress that I put on myself and it's caused a lot of other problems. I've learned for it to just think things more thoroughly and relax and not worry too much about things."
The Wrangler: What are the top three factors that you would attribute to you high school success?
Caroline Burden: "One: Staying on top of things. Two: I have this weird thing where from the hours of 8:15 to 3:40, I just like zone out and just pay attention in class and it's always been that way I don't know why, but I feel like that has help me not get distracted in class. And three: Is just having fun."
The Wrangler: What is something that many people wouldn't know about you unless they actually got to know you?
Caroline Burden: "I don't think people know that I'm actually a nerd and kind of lame, or maybe people do know that I don't know, but I am."
The Wrangler: Tell us something about this football season that you found outstanding?
Caroline Burden: "I thought this football season, going into it, I didn't know what to anticipate because we lost a lot of starting football players and I thought it was pretty outstanding. You could just see how much the boys wanted to keep going and to play their absolute best in every game, every play, so that was pretty outstanding."
The Wrangler: Has there ever been a moment in cheer when you didn't want to be apart of the team anymore?
Caroline Burden: "I think as a cheerleader who's been on the team for four years there's always been that one moment every year, but it's usually where there's a lot going on in one week. Like we have a huge pep rally and a game and then something on Saturday and its just hectic and crazy and we're all stressing out. That's the moment when you have to buckle down and really focus and work for your team."
The Wrangler: How did you feel when you found out you were GRHS Cheer Captain for the class of 2016?
Caroline Burden: "When I found out I was cheer captain, I don't think I realized until a few days after I found out that it was actually a lot of responsibility and it is. It's a whole lot because the cheerleaders do so much for George Ranch and the captains kind of organized everything for the team. So, I was kind of shocked at how much I had to do, but it was worth it."
The Wrangler: How do you say, as a team, the GRHS Cheerleaders work together?
Caroline Burden: "I think as a team, the cheerleaders work together as a 'Friend Union'. We like to have fun and joke around and keep it light-hearted because if we can't have fun, it's not fun and no one's gonna want to do it. And the way we work, we get things done, but we do it in a light-hearted manner."
The Wrangler: How do you feel about the GRHS Rowdies this year?
Caroline Burden: "The Rowdies this year were a new animal because they were rowdy this year. Since it's such a new group at our school I guess, it's still growing every single year and they've become a lot more organized. It's so cool."
The Wrangler: Is there anything else you want to say about yourself for this interview?
Caroline Burden: "No."
The Wrangler: Could you end this interview with and inspiring quote?
Caroline Burden: "'Two roads diverge in a yellow wood and I took the one less traveled' by Robert Frost."
About the Contributor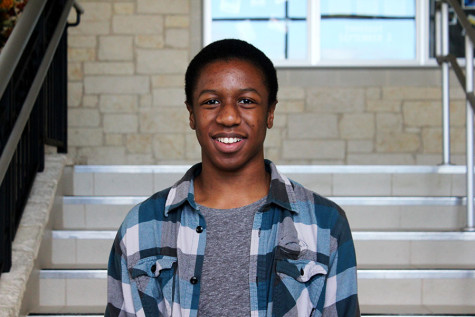 Haig Moses, Staff Writer
Haig Moses is a senior at George Ranch. This is his first year on The Wrangler, he loves writing and acting and is very artistic, honest and astute. He...