Astros Conquer the World
Their 2017 World Series victory
By Reid Pitts, Staff Writer, Staff Photographer
November 2, 2017
Coming into the 2017 World Series, the match-up looked pretty intense with the Astros knocking the Yankees out of the NLDS with a 4-0 victory in a game 7 and the Dodgers obliterating the Cubs with an 11-1 win in game 5.
There was no doubt that this World Series would be a great one.
It was said that the unstoppable force of the Astros' offense would meet the immovable LA bullpen.
It was said that the Dodgers starting rotation was untouchable.
I think they forgot who they were playing against.
The Astros had much more than offensive talent on their side coming into this world series. They had the hearts and hopes of every Houstonian riding along with them and helping them to only lose three games at home in the latter part of the regular season. Wearing the "Houston Strong" patch on their uniforms, the Astros were ready to give a championship to their city following the devastation of Hurricane Harvey.
Then, there it was. The stage was set and the World Series began in LA. Dodgers' Clayton Kershaw squaring up against Astros' Dallas Keuchel. Game 1: Pitchers dual. Dodgers 3 Astros 1 
Up next? Justin Verlander, newly acquired ace for the Astros, vs LA's Rich Hill. A ridiculous home run derby lasting 11 innings. Game 2: Astros 7 Dodgers 6
What follows a ridiculous game two? The first Houston home game. Lance McCullers Jr. vs Yu Darvish. Game 3: Astros 5 Dodgers 3
With Houston still looking to be undefeated at home in the postseason, Charlie Morton takes the mound for the Astros against Alex Wood for LA. Blown save by Astros' Ken Giles erases that. Game 4: Dodgers 6 Astros 2
Game five. Series tied 2-2. Who takes the lead? Kershaw and Keuchel will decide that. Ten innings and three ties, Astros on top. Game 5: Astros 13 Dodgers 12
Series 3-2 in Astros favor. Can the Astros get their first World Series win tonight behind Justin Verlander? Rich Hill says otherwise. Combined with the bullpen, Hill makes the Astros' offense nowhere to be seen. Series tied 3-3, there will be a game 7. Game 6: Dodgers 3 Astros 1
Here it is. Game 7. One team wins and the other goes home. Who achieves immortality? Lance McCullers vs Yu Darvish. Game 7: Astros 5 Dodgers 1
Astros win! Astros win! Astros win!
Their first World Series title in franchise history!
George Springer awarded World Series MVP and Carlos Correa proposes to his girlfriend.
For themselves and for the city of Houston, Astros have truly "Earned History."
About the Contributor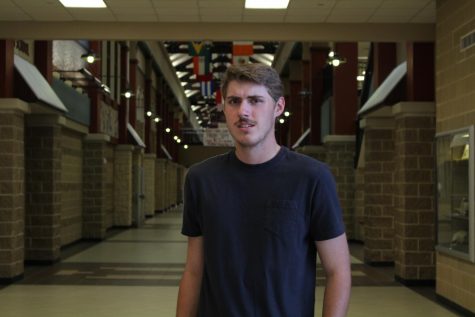 Reid Pitts, Staff Writer, Staff Photographer
Reid Pitts is a senior and this is his second year on The Wrangler staff. Reid enjoys backpacking and photography. He will be studying forestry at SFA...