Exhilarating Experiences
Over the course of the last week of October, I worked at Redrum, a Haunted House located in Richmond.
As autumn arrived, many looked forward to partaking in fall-related festivities, such as carving pumpkins, attending Halloween parties, and for some, visiting a haunted house.
Like many other haunted houses, Redrum typically opens to the public as fall rolls around. It consists of three haunts, or themed houses, titled Asylum, Twisted Circus, and Cinegore. Snow cones, a small stage with live music, a merchandise shop, and a seating area are located near the graffiti murals adjacent to the haunts. People who wanted to visit the houses could either buy tickets online for $30 or pay $35 at the door throughout the season.
During the last night of the season, Redrum also held a blackout night, during which tickets were $20 online and $25 at the door. On this night, none of the houses had any lights on, which made it more exhilarating or terrifying for both visitors and actors. Visitors were given glow sticks during blackout night in order to help them navigate.
Many employees, including myself, took the actor roles to portray characters within the haunts in accordance with our house themes. Actors would sport costumes ranging from mangled doctors to serial killers, and wore make-up. The cosmetics painted gashes, sprayed blood, and created clown features on actors' faces. Actors were positioned throughout houses with respect to their costume theme.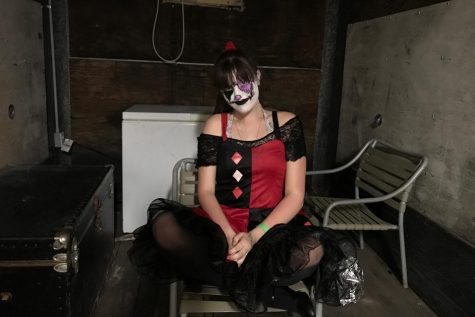 Gaurang Dhingra
Isabelle Williams (10) in costume.
The haunts maintained distinct elements to match their unique configurations.
Asylum's primary aim was to blend the atmosphere of a psychological hospital with the grotesque imagery of insane and bloodied patients. The Asylum haunt, in particular, was packed with horrifying animations which lunged at guests in accordance with motion sensors which detected them. A multitude of burlap curtains was suspended from the ceilings of dark rooms, and lit rooms contained malformed mannequins accompanied by walls caked with blood splatters and hand prints. Strobe lights and actors were scattered through the entirety of the haunt, roaring and flashing at visitors. While the other two haunts didn't provide visitors with any items to take into the house, Asylum supplied visitors with laser tag guns to shoot actors and mannequins with. Upon being 'shot', strobe headbands which were worn by the actors and mannequins flashed with a piercing green light, indicating to visitors that actors were 'dead', and indicating to actors that they should play dead. Avery Pinkston, a senior, said, "My favorite house was the asylum, mostly because those kinds of things are interesting to me."
Twisted Circus, like Asylum, maintained a self-explanatory theme. The house was packed with clowns who lurked in the darkest corners and produced piercing screams as they leaped out at visitors. The highlight of the house was a nearly pitch-black room which contained a ball pit. As visitors attempted to cross the pit, clowns would spring out and release guttural sounds to terrify them. Another notable feature of the house which was a bridge which passed across a cylindrical room, where lights ran along the walls to create a vortex, which brought more awe than terror until the clowns would disrupt the scene and prompt visitors to dash to the next room. The other parts of the house were filled with contraptions where clowns could hide, such as a metal box in the ground. Additionally, clowns were armed with baseball bats and toy guns to intimidate visitors.
Cinegore maintained a rather distinct theme in comparison to the previous two houses. Its premise was to incorporate various fictional characters which were popularized in cinema under the horror genre, such as Bloody Mary and Frankenstein. The main attraction of Cinegore was a small 'theater' room with seating and a television in the front. Aside from the cinema, each character had their own themed room within the haunt filled with several features relevant to the respective figure in cinema. Towards the end of the haunt, actors chased visitors down with chainsaws. McKensy Watson, a sophomore, said, "the scariest feature [of the haunt] were the guys that chase you with chainsaws at the end. That has to be the worst part because you don't see them coming."
Watson commented, "It was terrifying, but exciting at the same time. I knew a lot of people that worked there, so they made it a lot more fun for me."
"
It was terrifying, but exciting at the same time. I knew a lot of people that worked there, so they made it a lot more fun for me."
— McKensy Watson
George Ranch students Morgan Gonzales (junior) and Isabelle Williams (sophomore) worked at Redrum.
Gonzales stated, "It was really fun to get paid to do something I love to do, and was also an amazing first job."
Williams said, "My time at Redrum was filled with many new experiences, people, and acting tasks. By working at this haunted house, I developed a sense of what it's like behind the scenes of a haunt, and how it's not as scary as it seems."