#TimesUp
The Time's Up movement began in wake of the sexual assault allegations against several men in Hollywood and has grown tremendously since then, even sparking a movement at the Golden Globes
The 2018 Golden Globes took place on January 7th, 2018. In case you hadn't heard, the entire event was a blackout, meaning that almost every guest in attendance wore black to stand in solidarity against sexual assault. Along with wearing black, several celebrities sported a 'Times Up' pin. The Time's Up movement was sparked by the #MeToo trend after several Hollywood predators were shut down.
The Time's Up movement has one message for people everywhere: "The clock has run out on sexual assault, harassment, and inequality in the workplace. It's time to do something about it."
The trend of taking a stance against sexual assault has tremendously grown since October when big-time producer Harvey Weinstein was exposed for several lewd accusations against him by many women in Hollywood. Since then, several more celebrities including Kevin Spacey, Louis C.K., James Franco, and others have been accused of sexual assault.
"
No more silence. No more waiting. No more tolerance for discrimination, harassment or abuse."
— https://www.timesupnow.com/
While many celebs have now taken a firm stance against sexual assault by wearing black to the Golden Globes, the problem is still alive and thriving.
Celebrities like Rose McGowan, who was, supposedly, not even invited to the Golden Globes, have since spoken out against the fakery in Hollywood. Considering McGowan was one of the women who accused Weinstein of sexual assault, it seems strange that she was not in attendance at this so-called "movement". How can Hollywood be preaching change, but shutting down those who bring it about?
Perhaps that is the true problem in Hollywood. People don't speak up when it's needed most. When Dylan Farrow posted her open letter in 2014, this did not stop celebrities from working with Woody Allen. When several women accused Weinstein of sexual assault for multiple decades, this did not stop celebrities from working with Harvey Weinstein.
Only now that the world is paying attention, Hollywood is forced to face the problem. Now, the time is up. The clock has run out, and we can no longer tolerate this blatant and obvious abuse and misuse of power. This is the purpose of the Time's Up movement. To inform people that we can no longer be silent. We must speak up.
While this important movement has grown large enough to affect major awards shows, is this enough? Can simply wearing black to an event or wearing a small pin bring about any real change?
About the Contributor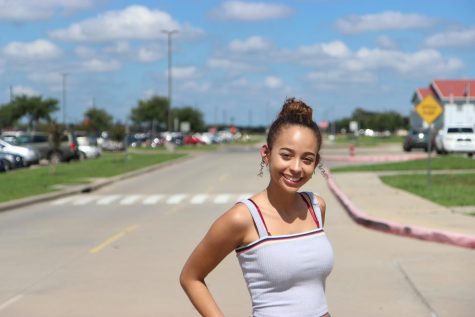 Kensly Landry, Online Editor
Kensly Landry is a senior at George Ranch High School. This is her second year on The Wrangler staff, and she is an online editor. In her free time, she...