My Experience At ASTROWORLD
An amazing time with outstanding performances.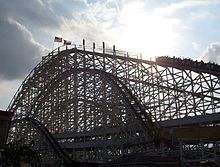 By Kobe Hay, Staff Writer
December 19, 2018
Travis Scott's ASTROWORLD tour kicked off in Houston on November 17, 2018. I was one out of 35,000+ who attended. I purchased my STARGAZING VIP ticket, and I was able to witness history being made. Stepping through the entrance gate gave me butterflies, seeing all of his merchandise in a certain area for VIP pass owners which made me feel special.
Waiting for the first concert was a huge struggle for me because I'm not the tallest person in the crowd but I sure do carry some weight when I need to push and shove. Being in the first mosh pit was absolutely insane, I couldn't even bear to move my arms they were tucked onto my chest. "I BE COUNTING HUNDREDS TILL MY FINGERS BLUE" Smokepurpp who is a signer to CACTUS JACK Records was one of many acts I witnessed in person.
Patiently itching for another artist to perform turned into a dream come true. Walking around viewing the VIP area I suddenly sight Travis Scott's jeweler the man himself,  Johnny Dang. Dang is a very inspiring jeweler, one of many who gets his or her name out worldwide. His store is stationed in downtown Houston, Texas.
Trippie Redd was up next and was late, which was not surprising, but it's tolerable I can say because the performance he gave out was outstanding. I found out about the VIP gets users even closer than ever. Being in front of all these highly anticipated rappers makes me just want to jump on the stage and jump off. Redd pays his respects by performing one of his closest friends songs by XXXTENTACION.  Redd also has a verse on this track. Ending off the way he did let everyone down, but overall the whole performance was like I said was outstanding.
Young Thug, king of mumble rappers is "ON  THE RVN" to greatness with the powerhouse performance. Coming straight from the jail cell. Seemingly the performance had the whole festival going to his thrills stage which was very exciting. Being in the game for about five years now, he has gained so many followers to ride his wagon, before Thug was bashed for his feminine ways. Bringing back out the "Redd" headed rapper trippie redd put on his most famous song featuring Travis Scott's "Dark Knight Dummo". He had the crowd shaking, wanting more and more hype for the mastermind performing artist "La Flame" mostly known as Travis Scott.
The waiting experience is the worst part about this and it absolutely tears your legs apart. Being trapped in a closed environment wasn't the worst part. In my opinion not having a place to sit is  worse. It was pretty bad, to the point that  I was starting to rest my head on strangers backpacks.
Ten mins passed by and Believing in hope of beauty, beauty is here. Post Malone high-school lifestyle, at age 23 Mr beerbongs and Bentleys made the wait worth every second. Being trapped in the closed crowd made things surprisingly better for me. Austin Post is one of the most talked down "Rockstars Rappers" being fooled by everybody, he doesn't hide behind his music. Pacing the stage back and forth he looks and stares in between songs he tells us a message each time. Leaving the stage with pride in himself he blesses us with his amazing performance, leaving us with something to speak about the next day.
Now the genius the mind behind the closed and shutdown amusement park in Houston, Texas named "ASTROWORLD" was reopened for the memories of TRAVIS SCOTT. Giving the ones who couldn't even attempt to be there,  now they have that chance. Being as close as possible to the stage as I can get, it was the best part about this first time experience. Scott was indeed a crazy performer and lives up to his name "King of rage". All I felt the entire time he was on set was pure energy from start to finish. Letting out his younger upcoming days he was still on the rise with his rage and rage is what came from the Day Before Rodeo artist. Don't Play and Mamacita being his ragers from the album he and his fan's go absolutely insane for these two songs which made him find his rage in his music and pretty much who he is today. Scott put in all of his effort with making this come true and bringing out the light in his life. SKELETONS which Scott set out to be his favorite song on the album and I can't tell anyone why, but the song is very drum based. Moving along the concert we got deeper into the ending leading me into the best part of it. SICKO MODE a 3 part 2 beat switch up song featuring Drake. SICKO MODE a perfect example of absolute rage. Part 1 of SICKO was like the upbringing to heaven. Being in the MOSHPIT was the part of feeling like HELL was creeping upon you slowly and Part 2 would be the same feeling. Ending the magnificent ASTROWORLD Festival with Scott telling us a that he and his baby mother Kylie Jenner are married by saying "Me and my beautiful wife" leaving us with on that note, the ASTROWORLD journey ENDS.