The Weight We Carry in a Choice
Joining the military can be a big decision and to serve your country can be a great honor. The journey to get there, however is a long and less traveled path.
Making the decision to join the military is not something to consider lightly. Whatever branch you choose, may it be the Navy or the Air Force, only you can decide if the commitment is worth it for you.
They will say, "You're throwing your freedom away".
You might get responses like, "Why the military?"
The most common question: "Are you ready?"
"
With any decision involving your future, there will always be pressure to do the best thing for you."
My replies often vary depending on the person who cares to give their unsolicited or solicited advice. To my friends and/or acquaintances, I just say that I get to do what I want, like travel the world, plus learn and write about new people and places.
To my family, to my father who served twenty years in the Navy, to the fifty percent of my fathers family that was in the military, I say that it's because it feels like the right thing to do. Because it's a family tradition and if they can do it and be successful, as can I.
Although, as I'm signing my contract that will determine my life for the next six years, I couldn't really say what the real reason is. I suppose you could say that there is some truth in my answers that I give; however, the weight of my decision starts to feel heavier as I put pen to paper. A weight I soon learned I share with the others who made that same commitment.
You start to feel the gravity of the weight in your local recruiting office. First a test will be given, which tells you which jobs you qualify for. Whether or not you get the job you want completely depends on the amount of effort you're willing to put in to study and gain the required score for the job you wish to obtain.
"Tests have never really been an issue for me, though when I went to go take the test I definitely felt the pressure, pretty overwhelming but I did good and got a good job," said Brandon Molina, a senior who took the Armed Services Vocational Aptitude Battery test(ASVAB).
After taking the test, there's a avalanche of invasive paper work that basically wants to uncover anything and everything about you. From your address when you were five to "do you participate in illegal activities?". The process comes with a lot of repetitive questions, however it does really make you think about whether or not the military is the right decision.
All that paperwork then gets sent to the Military Entrance Processing Stations (MEPS). The stations determine all of the applicants eligibility through physical qualifications, aptitude and moral standards. When all of your paperwork has been reviewed they will give you a schedule date to go the station and that is where a physical test will be given, where you can swear in to the branch of your choice and see if the job you want is available. All of that gets done usually within the spans of two days if everything goes correctly.
"After two days of a lot of waiting and repetition of medical questions I was definitely ready to go home. Though at the end, when my family came to see me swear in and I finally knew what my future held it kind of made everything worth it," said Anthony Duran, a senior who recently swore into the  Navy.
Most students who enlist to the military before they have graduated are placed into the Delayed Entry Program (DEP). This program prepares students for military life physically and mentally.
What I personally like about the DEP program is that it gives you a sense of community—somewhere to turn to during such a challenging time. There are people of all ages ready to support you in a common goal everyone in the program shares.
The military isn't for everyone, just like college isn't for everyone. Though for some, it's the only path they know. With any decision involving your future, there will always be pressure to do the best thing for you.
With time the weight lifts, you must trust your decision and try to be the best you can be.
About the Contributor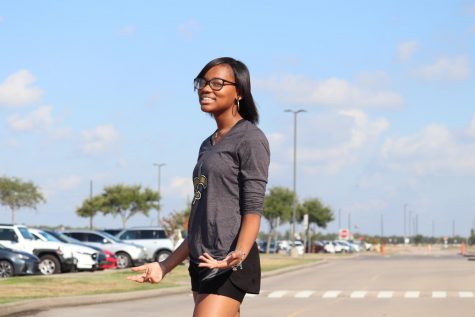 Princess Sinkambe, Staff Writer
Princess is a senior this year. It is her second year on the newspaper staff. She enjoys trying new foods and dancing when everyone or no one is watching....