Howdie Mrs. Hunt!
Mrs. Hunt tells us a little bit about her career as a school counselor and what she did before coming here to George Ranch!
The Wrangler: What college did you go to and what degree(s) did you earn?
Hunt: I went to Texas Christian University and have a Bachelor of Science in Education and a Masters in Education.
The Wrangler: What made you want to become a school counselor and why?
Hunt: I wanted to be a school counselor so that I can get to know students better and help them become the best versions of themselves.
The Wrangler: What did you do before you became a school counselor here at George Ranch?
Hunt: Before coming to George Ranch I was a counselor at a middle school in Fort Worth for 8 years and then I was counselor for 2 years at a private school in Fort Worth.
The Wrangler: What made you come to George Ranch and why?
Hunt: I decided to come to George Ranch because my family and I moved in this area and my children go to Campbell and Reading and I wanted to be on the same track with them.
The Wrangler: What is your favorite thing about being a counselor here at George Ranch?
Hunt: My favorite thing about working at GRHS is the students. We have such diversity and amazing students. I also really enjoy my counseling team. We all work well together and want the best for kids.
The Wrangler: How do you feel when a student comes to you for emotional support and why?
Hunt: When a student comes to me for emotional support I am happy that student made that step. It can be a hard one to make. I feel proud for that student as well.
The Wrangler: How do you feel when a student tells you that you have made their day better?
Hunt: When a student tells me I made their day better it makes me know that I am in the right place. Students have the tools within them and I like helping them find those tools.
The Wrangler: Who is your biggest role model and why?
Hunt: My biggest role model is my mom. She passed away a few years ago and struggled with many things. However, she was a good genuine person. She was always giving to others and strived to do the right thing for others. She taught me the importance of hard work and always stressed to me the importance of reaching your goals.
The Wrangler: What is the hardest part about your job and why?
Hunt: The hardest part of my job is getting enough time with each student. I want to know each one personally and get to know them. I wish we had more hours in the day for that.
The Wrangler: What is something you have to say to all your students?
Hunt: I want all of my students to know that life is what they make of it. I also want them to know I am here for them and we have so many people here on campus and in our community that are too. I am nonjudgmental and just want students to reach their full potential.
About the Contributor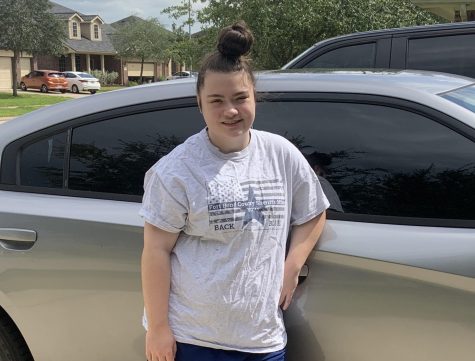 Keely Telford, Staff Photographer
Keely Telford is a Junior. This is her second year as a part of the staff. She likes to exercise in her free time. She looks for vintage buildings as a...