So Yeah, Frank
"I'm James Frank and I play the guitar and I sing," junior James Frank said. "My band's name is 'Frank', so yeah, Frank."
The awkward kid from the GRTV News team has a three-man-band containing juniors Spencer Paschal from Fort Bend Christian and Jade Castillo from Terry. Paschal is a wicked drummer while Castillo plucks away on the bass.
"It was just kinda me for a long time," Frank said when asked about the band. "Then I heard about the mini-fest thing, got asked to play it, and I lied to them, the people doing it. I told them I had a band and I didn't, so I booked that show before I even had a band. So then I really quickly found members. So it was really rushed, but a good rushed I guess."
The drummer, Paschal, was a really good friend of Frank's from elementary school, but the bassist, Castillo, was actually one of the people who was putting on the mini-fest.
The genre for this upcoming band is a hard one to describe, but indie rock was the one they say they officially are.
"We came up with something to describe it the other day," says Frank. "I guess it's indie rock but we said [we wanted to do] fun rock and roll, something like that."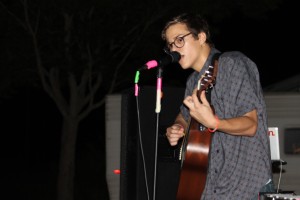 All of the songs performed by "Frank" are original, written by James Frank himself. He writes it all, from the lyrics to the notes for the instruments. His inspiration for the songs comes from day-to-day things.
"I'll think of one line; it will usually be at school just randomly," Frank said. "So I'll think of a line that I think is funny. It usually starts with something that I think is funny and then […] I just get home and get my guitar and just […] mess around [until] I [think I] have a song done. So yeah."
Every band needs to practice to reach perfection, even the pros.
"We go back and forth from Jade's house; she has a cool PA system," Frank said. "But then when we're lucky, we practice at this storage unit, by […] New Territory that's really nice, so yeah."
Other than the mini-fest, "Frank" hasn't gotten to perform in any other shows, but on Friday, Oct. 25 they will play a Halloween show at The Shed in Rosenberg at 8:00 p.m.
If you would like to listen to the musical creations of the band "Frank", they are on SoundCloud under Frank's account: jamesfrank, but Frank is also selling an EP called "Strong Guys," with 10 songs on it for five dollars.