Frozen: A Winter's Fairytale
Even though it made its debut over two months ago, Frozen, the newest Disney Animated Studios masterpiece, is still making an impact on daily lives. Try whispering "Do you wanna build a snowman" in a quiet classroom, and you can feel the energy spike, and, of course, hear the song reverberated back to you.
The story is a little un-Disney, but also Disney-filled at the same time. Frozen did away with the normal princess finds a prince, they fall in love, and get married the next day. The storyline is a refreshing tale of love, adventure, and sacrifice; typical traits we look for in a potential Disney classic. However, the love that is shown is not romantic, and the sacrifice is not made by a prince charming as it usually is.
Disney always has comic relief; silly, sweet-hearted, summer-loving snowman, Olaf, plays the role perfectly. But as we all know from Disney's numerous heartbreaking scenes, (*cough* *cough* The Lion King) the talented animation artists don't only tickle you and make your heart warm, but also evoke feelings saddness and sorrow. Frozen was no exception.
The combination of the loss of Anna and Elsa's parents and the lack of relationship between the two sisters cannot help but make you feel empathy for Anna's situation. Anna is starving for attention and true love and dives headfirst into a relationship with man she barely knows. Very Disney-like. When Anna asks for Elsa's blessing in Hans' and Anna's impeding marriage, Elsa says "No".
That, in and of itself, was the pivotal moment in the movie theatre where you knew this movie was going to be different. Frozen was excellent. The movie just spiraled from there. Normally, you are able to walk into a Disney movie knowing exactly what is going to happen even before the opening credits, but the twists and turns of the movie keep you guessing until the very end.
It does not matter if you are five, fifteen or fifty, Frozen will be a movie that you love. It is timless, taking no specific age group, which, in my opinion, reveals the real success of a movie. You will not regret forking over ten or fifteen dollars to see this classic in the making.
About the Contributor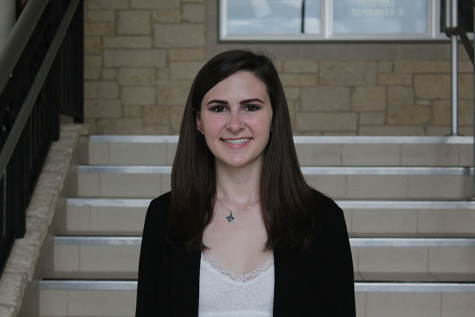 Grace Elliott, Editor-in-Chief
Grace enjoys reading and watching TV in her spare time. In the summer, she loves traveling and hanging out with friends from church and school, and she...