Schoolboy Q's "Oxymoron"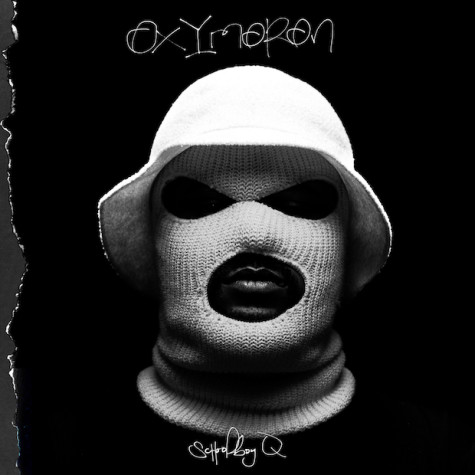 Album Rating: 7/10
The genre of gangsta rap has slowly faded from the mainstream and this is partly why the success of Oxymoron, which sold 139,000 in the first week, is special. It is a rare album: gangsta rap in a mainstream dominated largely by party and trap music (with a sprinkling of a few "conscious" and "lyrical" rappers). Through Oxymoron, ScHoolboy Q was able to modernize the gangsta rap and appeal to a wide audience while still retaining the genre's most important qualities.
The member of Black Hippy who is probably the most representative of the hip-hop mainstream, ScHoolboy Q's lyrical ability is undoubtedly superior to that of the average rapper—yet he is still susceptible (or rather, perfectly content) with discussing the common subjects of mainstream hip-hop: drugs, sex, parties and the life of a "gangsta." Oxymoron is an array of such things.
The first track of the album (aptly titled gangsta) sets the tone for much of the album. The initial track contains a repepetive hook of Q chanting "Gangsta, gangsta, gangsta". Two verses of gangsta and braggadocio rap follow. Such themes continue throughout the project: Los Awesome featuring fellow Black Hippy member Jay Rock and produced by Pharell is a banger–a song in which Q and Jay Rock discuss their gang ties. Hoover Street, meanwhile, is an almost 7 minute long in which Q releases his more lyrical side as he discusses how he was forced into the gangsta lifestyle and the ninth track Blind Threats features legendary rapper Raekwon spitting the last verse and making one of the highlights of the album.
Q also manages to balance the tone of the album with tracks such as Collard Greens (the lead single) Studio Time (featuring long time TDE collaborator BJ the Chicago Kid), and Man of the Year (the second single) which all provide the less somber side of the project. Such tracks produce the title of the album. ScHoolboy Q becomes somewhat of a paradoxical figure: he is one who succumbed to the gangsta lifestyle due to the pressures of his environment and chooses to do what he can to raise his daughter and become successful, yet he still falls prey to the temptations that are associated with his fame and lifestyle—though of course, he remains unapologetic.
The release—and success—of Oxymoron is furthermore significant because it is the second major label album released by one of the members of Black Hippy, which has now established itself as one of the premier collectives in hip-hop. This album solidifies both Q and Black Hippy as true members of the hip-hop community. They are here to stay, and this success only strengthens the anticipation for Ab-Soul and Jay Rock, the two remaining members of Black Hippy who are yet to release a major label debut.