Lip Dub Fever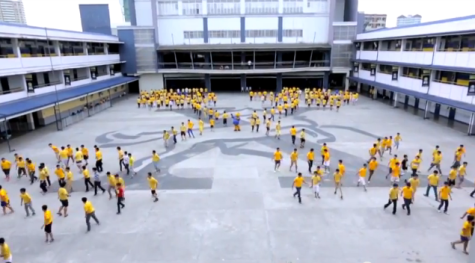 Lip dubs, usually video productions of a school lip syncing to a song in a one shot take, have been captivating YouTube for a while now. These impressive projects, though extremely hard to organize, are rewarding to watch. This year, the school has decided to put together George Ranch's first inaugural lip dub. As newbies to the trend, hopefully the school will be able to take pointers from these must-see lip dubs.
As a classic representation of a lip dub, this video has all the requirements of a great lip dub: good lip syncing, creative use of students, and props.
This school went above and beyond creating a lip dub worthy enough to  impress the almighty Katy Perry and win her nationwide high school lip dub contest. The creative use of props and space definitely makes this one the apparent superior video.
The trend of lip dubs isn't just prevalent in America, as this all-boys school in the Philippines shows. They have not just taken the challenge of making a lip dub, but have topped every other high school lip dub I have seen yet. With a well-choreographed dance at  the 9:30 second mark and crazy impressive floor dance at 10:30, showy props, good use of their beautiful campus, and a super attractive all-male population, this school has definitely set the bar.
This lip dub created by the University of British Columbia has also surprised me with their excellent execution of a lip dub on such a large campus. With a creative parody of the famous Old Spice commercial as the intro, this college starts off strong adding new ways to perform the lip dub as, a glow-in-the dark "rave" at the 5:32 mark, an underwater lip dub at 5:42, a video within a video at 6:50, and a cool aerial view of the students dance like that of the all-boys school at 7:16.
I'm not sure if this video even counts as a lip dub, but it definitely should. An undergraduate class at The University of Alberta made a medley of parodies to different classic Disney songs to tell of their future journey of becoming doctors. Along with great dance choreography, surprisingly good singing, and quality humor, this quasi-lip dub is definitely a favorite.