Howdie Mara Niggemann!
Mara Niggemann is from Germany and one of seven foreign exchanges students at George Ranch this year. A junior thousands of miles away from home, she is been here for about a month and won't return to her home and family until June.
The Wrangler: What do you think about America so far?
Niggemann: I love it here. Everything is so spread out, [and] that is something that I like. The people are also so nice; they are so open [and] friendly. I like the weather here in Texas; I like the school because it is huge.
The Wrangler: Why did you want to be in the foreign exchange program?
Niggemann: I wanted to get to know new cultures and new people and get to be independent. At one point, I wanted to improve my English because I want to be a pilot.
The Wrangler: Why do you want to be a pilot?
Niggemann: Airplanes [have] fascinate[d] me since I was a child, and I'm very interested in the technique. It's my dream job.
The Wrangler: Have you ever flown a plane before?
Niggemann: I've flown about four times for vacation. That's how, in part, I got interested in flying. The nice thing about the job is you see new things around the world. Every day is different, and you experience so much.
The Wrangler: So, you've been here for about a month now. What was your favorite thing that you have done so far?
Niggemann: [I went to see] a movie, If I Stay, it was good. I have experienced so much already that I can't remember. Actually, there [hasn't been] a day where I thought, "Oh my God, that was bad day." So, it's pretty cool here for me.
The Wrangler: I know school is a little different, so how does George Ranch compare to your school in Germany?
Niggemann: It is different in many ways. My school in Germany is pretty small, about 300 students. We don't change our classes every period. We stay in one class [all day]. Our schedule is different every day. We get a schedule for the week. And, of course, we speak German. We have no lunch break, but it goes from 7:45 to 1 PM. And we don't have sports.
The Wrangler: Do you miss your family?
Niggemann: Actually, not yet. I have experienced so much and every day is so exciting for me that I don't have the time to think about friends and family at home.
The Wrangler: How often do you get to talk to them?
Niggemann: When I'm at school it is very difficult because when I am home, it is their night. I usually text my friends once or twice a day, and I use the weekends when I get in contact with them.
About the Contributor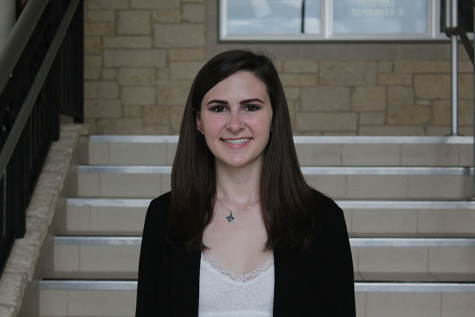 Grace Elliott, Editor-in-Chief
Grace enjoys reading and watching TV in her spare time. In the summer, she loves traveling and hanging out with friends from church and school, and she...