Announcements: October 24, 2014
Audtions – We are excited to announce will be holding campus-wide auditions for this year's musical JOSEPH AND THE AMAZING TECHNICOLOR DREAMCOAT on Wednesday, October 29 at 4pm. An incredible story of devotion, acceptance and what it means to be family, these auditions are open to ALL GRHS students. You need to bring sheet music to your audition and an accompanist will be provided. Please see Mr. Meyer in rm 1426 for more details.
Attention juniors! Your class t-shirts are now on sale. (see emailed attachment )Each advisory teacher has an order form just for you! Forms and fees are due by October 28th. Any questions? See Mrs. Richards- Baker or Mrs. O'Haver.
Students, if you need to checkout a textbook, you must now complete a Textbook Request Form located at the Student Service Window. Once your completed form is received, your books will be pulled and delivered to your classroom within 24 hours.
Chess Club is finally here at the ranch, Longhorns. Chess Club will officially meet on Monday and Thursday mornings from 7:15 to 8:00 and Wednesday afternoons from 3:45 to 4:30. Chess club will be in the library. Chess boards are in need to be donated to the club. If any questions please contact Mr. Throop, Aaron Chee, or Daniel Ajisafe.
Sophomore Leaders – HOBY's flagship program, the State Leadership Seminar allows high school sophomores to recognize their leadership talents and apply them in becoming effective, ethical leaders in their home, school, workplace and community. The three day seminar will be held at Texas A&M Galveston May 29-May 31, 2015. Log in to Naviance to complete your application that is due by October 31st. See Mrs. Reeves for more details or go to www.HOBY.org
The global affairs forum will be meeting every other Thursday starting October 9th in room 1442.
The Book club will be meeting every Tuesday after school from 3:40 to 4:30 in Mr. Boman's room 1327.
The next presentation of LONGHORN LOUNGE will be presented Thursday, October 30th at 7:00pm in the Black Box Theatre. Filled with performances by some of your most talented classmates, come out and enjoy an evening of entertainment, refreshments and some of the greatest new sounds and ideas coming from your fellow Longhorns. Tickets are $3 at the door and all proceeds go to help the GoScotland fund as the Longhorn Players represent George Ranch High School in Edinburgh Scotland next summer!
Hey Longhorns ! Student Council is so excited about homecoming this year. Homecoming is November 3rd- 7th . The theme this year is Great Gatsby and is titled : A Night at Gatsby's. Stay tuned to announcements for more information.
Student Council is hosting a Fall Clothing Drive through LCISD Common Threads from October 13th through to October 31st. Please help out students in need this upcoming fall and winter season and donate all old sweaters, hoodies, pants, scarves, etc. through advisory. The advisory with the
Now is the time to order your 2015 GRHS Yearbook. This week is National Buy Your Yearbook week, and the yearbook staff is celebrating
with daily giveaways of gift cards to local restaurants. The grand prize will be a Homecoming Gift Basket, with items for the winner and a friend: two homecoming football game tickets, two glow-in-the-dark pep rally tickets, glow items, two homecoming dance tickets, and a homecoming shirt. To be eligible for the giveaways, you must order your yearbook. There are two ways to order: online at www.balfour.com or in person at the yearbook table at all lunches Monday, October 20 through Friday, October 24. Order forms were mailed home, but additional forms are available at the Student Service Window. For more information, contact yearbook adviser Amanda Respondek at [email protected].
If you missed the meeting about the trip to Ireland, Scotland, England, and Paris, don't give up! You can still sign up and join in the adventure. There will be another information night on Oct. 29th, at 6:30 p.m. in room 1425. If you can't attend, contact Mrs. Kroeker at [email protected]. Don't delay, as the price is going up on November 1st. Payment plans are available to make this trip a possibility.
Save Our Strays is hosting its first annual charity softball game on Tuesday October 28 at 7:00 pm at the GRHS Softball Field. The game will feature your favorite teachers and coaches playing your friends and classmates! Adoptable animals, local animal related businesses, games and prizes will all be a part of this exciting night. Tickets are on sale now in room 2002 for only $2! All funds raised will be donated to the local animal shelters so come out for a good cause!
Join us for the First Annual Moonlight Madness Pep Rally to celebrate the official beginning of basketball season. Doors will open at 6:15 p.m. @ The GRHS Competition Gym with the event itself beginning at 7:00 p.m. There will be various contests performed throughout the evening including a three-point contest, a prize raffle every 10 minutes as well as performances from other George Ranch athletes and student organizations. The three-point contest will include both the Girls and Boys basketball teams squaring off in a heated battle to see who reigns supreme from behind the arc. Last but not least there will be a dunk contest to see who can throw down their best slam. The first 20 students will receive a free Moonlight Madness T- shirt at the Door! Student Tickets go on sale Friday 10/24. See your favorite Girls or Boys basketball team member to purchase them, as well as they will be sold during lunches. ALL ELEMENTARY AND JR. HIGH STUDENTS GET IN FREE.
most donations wins an exclusive pizza party!
for more information.
About the Contributor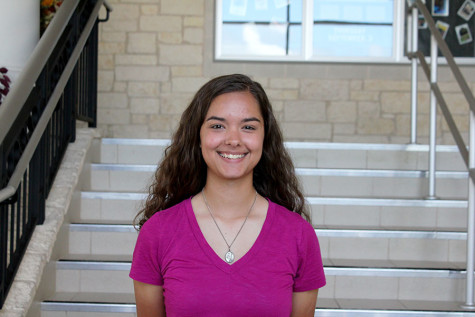 Sara Vivas, Staff Writer
Sara is a funny, light hearted person. She is a senior here at George Ranch; this is her third year on the Wrangler and she loves writing for the school...