Announcements: November 19th, 2014
Students please stop by and register for credit by exam test. Deadline to register is Friday, December 5. Registration forms can be found at the student services window and at the counselor corner in the cafeteria.
Chess club will meet on November 28, 2014. It is not too late to join in on the fun. Times are 7:15 to 8:00 Mondays, Wednesdays, and Fridays. Please see Mr. Throop or Aaron Chee for more information.
Want to learn how to conduct a building search? Want to learn how to conduct a felony take down? Join the Law Enforcement Club in room 2331. Interested? Meeting on Friday 09/05 after school.
The Red Cross Club meets every other Thursday. Meetings will be held in room 2305(Mr. Carroll's room) at 7:30 unless specified otherwise. For more information follow them on twitter @GrhsRedCross.
Class Of 2017 Shirts are on sale for $15. Stop by the student service window to pick up an order form! Stop with the sass and support your class!!!!!
There will be college representatives on Thursday, November 20th from Houston Baptist University and University of Houston-Downtown during all lunches. Stop by their table to get information and all your questions answered.
In honor of the GRHS playoff game against Kingwood Park on Saturday, the LOTE Week focus on SCOTLAND, and the theatre department performing in Scotland in August, 2015, this is officially PLAID OUT AT THE RANCH WEEK! In honor of this week, GRHS GO SCOTLAND will be selling Plaid Out at the Ranch shirts at lunch for $15. Support out football team, LOTE, and Theatre Dept. by wearing one of these cool commemorative shirts to the game!
Service Cord Participants: The next deadline for submitting your service hours is December 1st. Remember the hours must be submitted AND verified by your contact person at the event before Mrs. Russell can approve your hours. There are several entries from Sept. that are yet to be verified. It is the student's responsibility to make sure the hours are verified so that they can be approved. All projects should be dated from the beginning of this school year, Aug. 26th – Nov. 30th.All entries that are not verified by December 1st will be denied. Please go by Mrs. Russell's room 2408 if you have any questions. Don't wait until the last minute and risk losing credit for your hard work!
Tonight is GRHS Theatre Night at Chikfila. Just tell them at the time you pay that you are supporting GRHS Theatre, and they will give some profit to the GRHS Theatre group. Your support will assist the group in performing in Scotland! So, visit Chikfila tonight and tell them you are supporting GRHS Theatre!
About the Contributor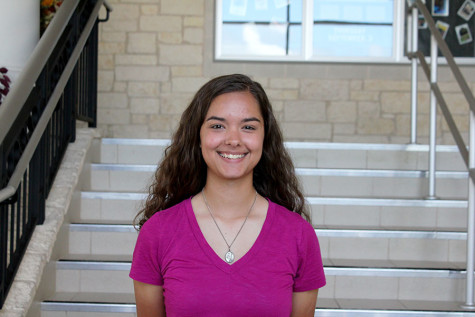 Sara Vivas, Staff Writer
Sara is a funny, light hearted person. She is a senior here at George Ranch; this is her third year on the Wrangler and she loves writing for the school...