Taylor Swift's "1989"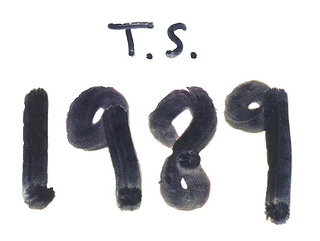 Here I am to talk about what everyone in the world already knows and will not stop talking about. The allusive Taylor Swift.
This year at the American Music Awards, Swift won the Dick Clark Award for Excellence. Which is a phenomenal achievement, because I mean it's Dick Clark, people!
Taylor got this award for her enormous sales on each of her albums and all of her concerts. Her last three albums (Speak Now, Red, and 1989) have made number one on the charts and have sold over a billion copies.
It seems as Taylor began branching out away from her comfortable country style music, the more successful and popular she became. It was clear in her album "Red" she no longer wanted to be a country musician and started writing pop music, but the country stations on radios across America refused to give up their beloved blond hair, blue eyed beauty.
Therefore, when she released her most recent album 1989 she literally shouted to the world "I'M COMING OUT WITH A POP ALBUM GUYS!"
And she sure did deliver. Her album is phenomenally put together. All of the songs flow together so well from beginning to end. It's not hard at all to fall in love with and jam to it every time you get in your car (I mean unless that's just me).
So here are some of my first time thoughts listening to the album:
"Welcome to New York": This song is actually Taylor's friend, Lorde's, also a very popular artist, favorite song on the album. And to be honest I don't really know why, maybe it's because this is the most peculiar song on the album and Lorde is quite the peculiar person. But I enjoy the song, all in all it just makes you want to move to New York because apparently, according to Miss Swift, it is on pause until you get there.
Blank Space: THE SECOND SINGLE SHE RELEASED OFF THE ALBUM WOAH. But this song is actually truly impressive. It is all about how the media makes Taylor out to be this woman player of men. She talks about herself as if she goes through guys every other week. In fact that is basically the entire album and it is hilarious.
Style: Gee, I wonder who this is about. At first while listening to the intro of this song, I thought I was listening to "Hold on We're Going Home" by Drake. Then all of the sudden Taylor's white, female voice begins to sing, it's quite confusing at first.
Out of The Woods: My step father's personal favorite on the album. Apparently Taylor and her partner cannot for the life of them figure out how to get out of the forest. This song was a collaboration between Swift and Jack Antonoff, front man of the band Bleachers, he actually makes a few appearances in the album.
Stay: This song is a beautiful ballet Taylor wrote for her beloved dog, at least that's what it sounds like to me anyways.
Shake It Off: THE FIRST HIT SINGLE OFF IF THIS FINE ALBUM. This song, as most everyone knows, is basically a giant I-don't-care-what-the-media-thinks-I'm-going-to-do-whatever-I-want-to society. This song is much like track two on the album where she exploits people making fun of her, by making fun of herself in all good humor. Props to you T for standing up for yourself against the haters.
Wish You Would: This song is about a boy driving down his ex's straight thinking about her. He thinks she hates him, but she really doesn't, it's also 2 a.m. Very dramatic.
Bad Blood: British singer songwriter, Ed Sheeran, claims this song as his favorite on the album. Ed is a smart man, because this song is bumpin'. This song definitely has more of a sick beat than Shake It Off, as Taylor claims. The base in this song is so impressive, I'm proud of you Tay. Also, apparently, this song is said to be about Katy Perry but of course that is merely a rumor. (My mom told me).
Wildest Dreams: This is a very pretty, possibly Lana Del Rey inspired, track. I love the course and the way Taylor uses her vocal range in this song.
How You Get The Girl: I love this song, it is so sweet and simple. It's a nice break from the upbeat, in-your-face songs that come before.
This Love: A slow, boring song about how a "love came back" to Taylor. Not my favorite.
I Know Place: This song kills it! From my knowledge of Swift's dating background, this song is most likely about Connor Kennedy. Ahh yes, the Kennedy boy, the one we never saw much of with Taylor but they were together and in love for so long. And this song describes exactly how the media ruined her perfect relationship with the Kennedy family descendant.
Clean: MY FAVORITE! By far the best song on the album and it makes it even better that it is the very last one (unless you buy the deluxe version, which I did and recommend even though I am not reviewing it). This song is about finally getting over a past relationship, or becoming "clean" of them. Becoming completely sober of a person you used to be addicted to. Beautiful song.
So, there you have it, a lame review of the album of the century.