One Direction's "Four"
The new One Direction album, Four, is actually good. Now you may be asking me: How is it good? It's One Direction. Yes, well throw away your misconceptions and the catchy "What Makes You Beautiful" single (and don't lie, I know you sing that song in the car when it comes on the radio) behind you and actually listen to the new album.
FOUR came out on November 17th and has so far captured the hearts of every single person who has listened to it, and it's not that surprising. The two singles out so far, "Steal My Girl" and "Night Changes", capture the two sides of the album quite well.
Before I go through the track list, let's just appreciate the person who mixed and mastered and produced FOUR. The songs flow together quite well, no two songs sounding exactly the same but all surrounding a similar theme (quite opposite to their third album, Midnight Memories). And personally, I enjoy tracks where the vocals and instrumentals don't sound especially clean, that have a type of grungy-garage recording type of feel, which FOUR captures perfectly. The whole album is like a throwback to 80's pop music mixed with rock.
You can really feel the 80s rock in "Where Do Broken Hearts Go", sounding something along the lines of a Journey anthem, but with a pop twist; "Steal My Girl" holds the pop genre, the repeating piano chords really capturing the 80s pop effect.
I must say, though, that there are a few awkward moments in the album but it's my own personal opinion. The rocky feel from "Where Do Broken Hearts Go" transitioning to the soft, acoustic "18" is a big jump in mood in terms of song energy, but "Girl Almighty" picks up the slack in energy. In a total there are about four (ha ha) slow songs balancing out the album's three most energized songs and five neutral songs.
FOUR is beautiful in general, and this is coming from someone who detested One Direction the first two years they were a boy band. It's no wonder that One Direction is taking the world by storm and in the hearts of so many. I mean, the maturity displayed in this album far exceeds any of their previous albums, sounding the exact opposite of their first album (Up All Night).
Give FOUR a chance, I guarantee that you will like at least one song on the album. If you don't, well, that's okay at least you broadened your music horizons.
About the Contributor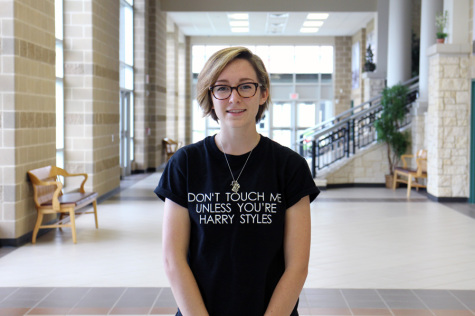 Marissa Vrba, Staff Writer
Marissa Vrba is a senior at George Ranch. This will be her second year on The Wrangler and she loves to write and learn about many new things. Marissa...