A Phrase Heard Around the World
"Je Suis Charlie," the phrase that is resonating throughout the world. It is a simple sentence made up of three simple words, but these select words have a lot more of an impact than anyone could imagine.
It is not simply saying "I am Charlie." It is showing the world that the world will not tolerate terrorism. They will stand up and they will recover.
The French satirical newspaper, Charlie Hebdo, was attacked last week by Islamic militants in retaliation to the repeated, sometimes slanderous, depictions of the prophet Muhammad. Said and  Cherif Kouachi are responsible for killing 12 at the newspaper's office.
"
It is not simply saying "I am Charlie." It is showing the world that the world will not tolerate terrorism."
This attack on Wednesday, January 7th was followed by the hostage situations at the Charlie Hebdo printing press and a kosher supermarket.
On the Sunday after these three attacks, thousands cried "Je Suis Charlie" and came together in cities such as Paris, Toulouse, Nice and other cities in peaceful retaliation to the attacks. They were showing they would not be taken down by the militants. One of the more famous supporters of this cause, George Clooney, was even sporting the "Je Suis Charlie" pin on his lapel at the Golden Globes.
The Prime Minister of France, Manuel Valls, was supportive of the marches.
"Tomorrow, France and the French can be proud. Everyone must come tomorrow," Valls said.
These are not the only steps the French people are taking. Charlie Hebdo has recently come out with their latest issue. The front cover depicts Muhammad appearing to support the "Je Suis Charlie" movement. Some think this is foolish, especially peaceful Muslim groups.
Dar al-Ifta, a leader of the issuing of Islamic edicts, thinks that it is a misstep that is toeing the line of racism.
"[The cover is an] unjustified provocation to the feelings of a billion and half Muslims around the world who love and respect the Prophet," al-Ifta said.
Whether or not the cover is appropriate, the newspaper is not backing down. They are showing their strength against adversity, and the attacks will not stop them from reporting what they feel is right.
About the Contributor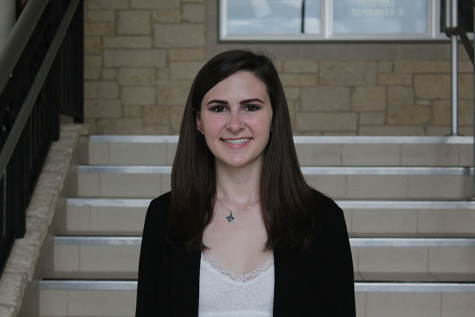 Grace Elliott, Editor-in-Chief
Grace enjoys reading and watching TV in her spare time. In the summer, she loves traveling and hanging out with friends from church and school, and she...