Howdie Dito Saenz!
The Wrangler got the chance to sit down with Junior Dito Saenz and ask him some questions about his experiences with music, in school and on YouTube.
The Wrangler: What activities are you involved in?
Saenz: I'm involved in band and NHS here at GRHS. Outside of school, I work with my church and I do YouTube stuff and iTunes stuff.
The Wrangler: How did you get into band and music?
Saenz: Basically, in elementary school, bands would come to the school trying to recruit new people to come into the band program, and I felt that it really touched my life and inspired me to do music and it's really impacted my life, so I've decided to do it further than school and band here.
The Wrangler: What do you play?
Saenz: I play the trumpet for band here at school. And I also play the guitar, the piano, the violin, some flute, bass, and ukelele, and I sing.
The Wrangler: What do you like about band?
Saenz: Band is a very social group, and it's also a very close group, and I feel like people in band, we spend so much time together that it's like a second family. And it teaches a lot of morals and values that you need for life.
The Wrangler: When did you start your YouTube channel?
Saenz: I started my YouTube channel about a year or two ago.
The Wrangler: What kind of videos do you make?
Saenz: I do mainly music videos, likes cover videos and original music videos, and I also do some vlogs and question videos.
The Wrangler: Why did you start your YouTube channel?
Saenz: I started my YouTube channel to sort of gain a foothold in the big world that we live in, and I wanna impact people and show people how music can affect your life just like it's affected mine, and so I can brighten someone's day or inspire other people.
The Wrangler: Was it hard getting started?
Saenz: It was definitely something that you have to talk yourself into doing, because it can be really hard to put yourself into the world, for people to watch you. And once you sort of get over that, it's really fun, and it's really easy. And I'm really grateful to have the opportunities that it's given me.
The Wrangler: Do you get a lot of negative comments or more support?
Saenz: I usually get more support, but I'm sure as I do it for a longer period of time, I'm bound to get mean comments and everything like that.
The Wrangler: How much time does it take to run your channel?
Saenz: Depending on the video, it can take anywhere from about an hour to a couple days, because talking videos are usually easier to edit and quicker and easier to do, whereas for music videos you have to edit the audio, and cut it to the video, and then edit the video, and put them together, and upload them to YouTube, which takes a while, and set them all up, make them all look good.
The Wrangler: How do you find inspiration for your videos?
Saenz: Inspiration strikes at the most inconvenient times, so I have to put ideas onto my phone or write them down somewhere so I can get back to them. A lot of times it happens when I'm listening to music or I'm watching another person's videos, I think of ideas to do.
The Wrangler: Is there anything else you'd like to say?
Saenz: Basically, if you want to do something, don't let anything stop you, because it can really impact your life and it gives you a lot more opportunities to grow and build a community out there. It's really, really vital that you get yourself out there and that you break through your borders so that you can have a great life. Don't ever let anything hold you back.
About the Contributor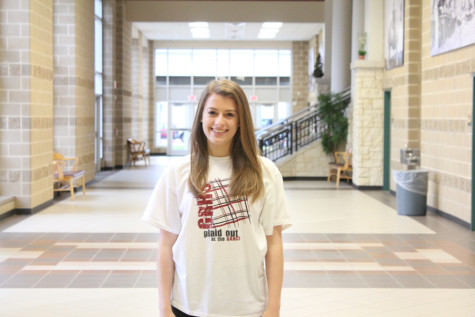 Sarah DeNeefe, Staff Writer
Sarah is a junior at George Ranch and a first year staff member for The Wrangler. She spends most of her time dancing outside of school, but, in her free...