Ronaldo vs. Messi
Every soccer player in the world knows these two. They are undoubtedly the best soccer players to ever play the game.  But the debate has gone on for almost a decade now – who is the better of the two, Cristiano Ronaldo or Lionel Messi?
Being born in Rosario, Argentina, Lionel Messi quickly caught the attention of professional soccer clubs. At age 13, he moved to Spain with his family to train under the world known soccer club, FC Barcelona. He made his debut on October 16, 2004, and became one of the youngest players to score for the club at the age of 17. Since then, he has broken numerous records, not only for the club, but in the history of the game.  Records such as beating German star Gerd Muller's 85 goals in a single year. In 2012, Messi netted a total of 91 goals. From winning 4 Ballon D'or's to leading his country to the World Cup Final, Lionel Messi has proved himself as one of the best to ever play the game.
From the slums of Portugal, Cristiano Ronaldo made a name early for himself. In 2003, he was noticed by English Premier League club, Manchester United. He showed promise early by scoring 3 goals and helping United win the 2004 FA Cup Championship.  Over the next 5 years, Ronaldo scored a total of 118 goals for the club. And in 2009, he was sold to Barcelona's rival team, Real Madrid, for a total of 94 million euros. In his last 5 seasons, Ronaldo has scored a total of 236 goals for Madrid, earning the club multiple championships. It is obvious that Cristiano Ronaldo has stood out among some of the best soccer players in the world.
Now you decide. Jeffrey Bonilla, a senior, shared his thoughts on the subject, "In my opinion, I honestly think Lionel Messi is better. He pretty much proved how he is better with all 4 of his Ballon D'Or's". But some people are quick to disagree. Daniel Eke, a junior, says "Ronaldo is better because he is more athletic".  The debate will go on forever. You've seen the stats. You've heard their stories. So now you decide. Who is better, Cristiano Ronaldo or Lionel Messi?
About the Contributor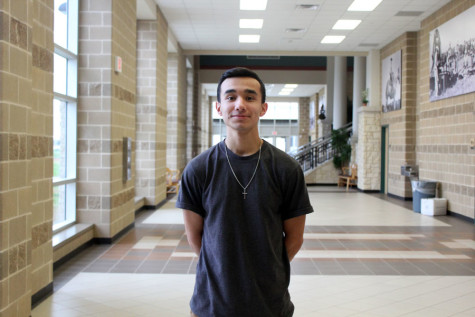 Jared Hernandez, Staff Writer
Jared is a senior and a first year staff writer for the Wrangler. He plans to major in journalism and pursue his dreams of traveling the world as a documentary...