Travi$ Scott Rodeo Tour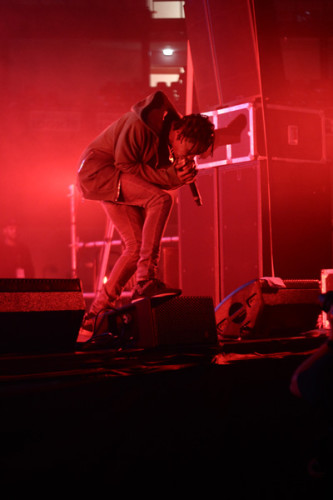 Rappers Travi$ Scott and Young Thug are on their North American tour "Rodeo". Both rappers are becoming wildly popular, and have several songs together. They performed at the House of Blues on Monday, March 23rd. This show was easily the best on the tour because Travi$ Scott is from Missouri City (South Houston).
Travi$ Scott is a Houston-born rapper, style icon, and Grammy Nominated Music Producer. Travis is signed to GOOD music, Kanye West's label. Travis has released two free albums: "Owl Pharaoh" and "Days Before Rodeo". The latter was the album which sky rocketed his career. Travis will be releasing his third studio album "Rodeo" within the next few months.
Young Thug needs no introduction to anyone who is interested in rap music. His signature voice is one to remember, and he already has many radio hits and features.
I got the chance to go to the Houston show on Monday, March 23 as a VIP guest. I was waiting in line to get in, and all of a sudden Travi$ comes out of nowhere and jumps on the three-story-high railing and gets the whole line hyped up for the concert. The first set was a DJ set hosted by critically-acclaimed music producer MetroBoomin. Young Thug was the second to perform, then Travi$. Travi$ and Young Thug alternated sets throughout the concert, and at the end both performed their songs they made together. In between sets, Travi$ inspired the crowd by ranting about the Houston Rodeo, his recently deceased grandfather, and he called out two men in the crowd who were wearing full suits.
The energy of the concert was electric, with a large mosh pit in the crowd and fans crowd-surfing left and right. The energy and atmosphere of the concert was indescribable. Kids were crowd surfing and going hard in the mosh pit. The performance itself was also very intense. Travi$ and Young Thu both took stage dives into the crowd of young fans. The concert was easily one of the best experiences of my life.