Howdie Bradley Greer!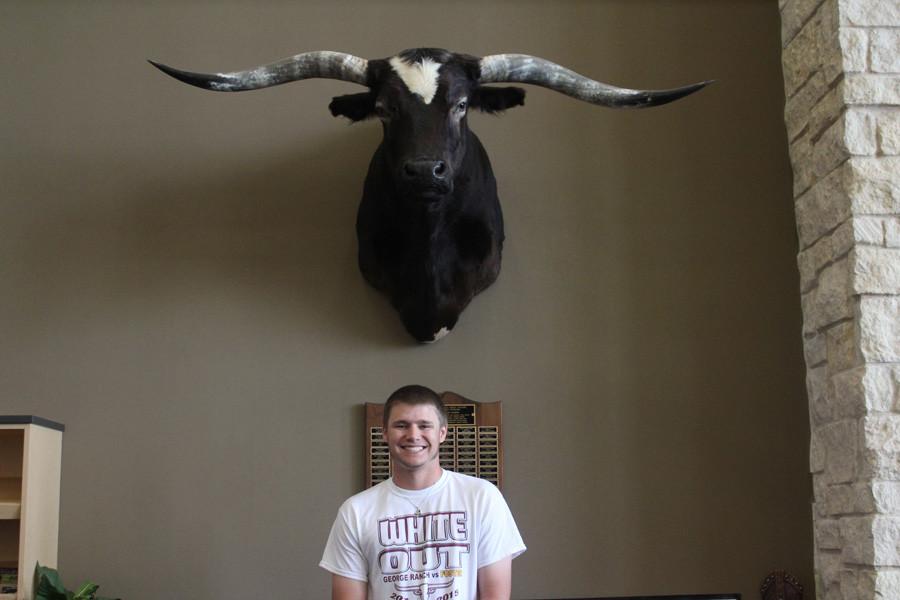 Bradley Greer is a Senior at George Ranch High School. He plays baseball for the varsity baseball team..
The Wrangler: What College are you going to and why did you choose it?
Greer: I'm going to Texas A&M University, and it is because my dad went there. It is what I've watched over the years.
The Wrangler: What is going to be your major and why did you choose that?
Greer: I am still undetermined, therefore I have no reason why.
The Wrangler: Tell me about what position you play in baseball and tell me a little about that position.
Greer: I play first and third base. They are on the corners of the infield. They're hot positions to play in baseball.
The Wrangler: How do you think the current season is going and how do you think it will go in the future?
Greer: Well we got off to a shaky start trying to kind of feel each other out a little bit. We picked it up in district and I feel like we're going to do well in that and hopefully go far in playoffs again like we did last year.
The Wrangler: Among all the March Madness, who do you have in your final four?
Greer: I have Kentucky, Wisconsin, Duke, and Providence.
The Wrangler: Why do you have Providence in your Final Four?
Greer: You know,  March Madness is all about guessing. I had a feeling about them, I liked it and  I went for it.
The Wrangler: Have you gone to the Rodeo this year, and if so who have you seen?
Greer: Yes I have, and I went to go see Zac Brown Band.
The Wrangler: Describe to me in a few words, just wrap up the four years of your high school career.
Greer: They have flown by. I'd also have to say that it's been a great time here at George Ranch. I've met a lot of good people, and I've really enjoyed my time. It's a shame that it's all coming to an end so quickly it seems like.