Howdie Lindsie McNair!
Lindsie McNair is a junior who participates in varsity theatre, and is currently a dance captain.
The Wrangler: What activities are you involved in?
McNair: I'm involved in Belles Dance team and Varsity Theatre.
The Wrangler: What positions do you hold in dance?
McNair: I am a Belles Captain.
The Wrangler: What did you have to do to become a dance captain?
McNair: We had a tryout process similar to that of the Lariettes. We had to make a binder and answer a ton of questions about the upcoming year and we had a panel interview with judges and an interview with both of our directors.
The Wrangler: How long have you been dancing?
McNair: Let's see, I started studio dance when I was in elementary school. So I'd say around the first grade, and then through Jr. High and high school I did school dance.
The Wrangler: What made you start dancing?
McNair: When I was younger, I just liked it. I liked the idea of, you know, little girls always looked up to pretty ballerinas. I was like "oh I want to do that!" and I just fell in love with it as soon as I started.
The Wrangler: What is your favorite part about dance?
McNair: Performing at competitions for sure. I love competition dances.
The Wrangler: What does a competition consist of?
McNair: Oh God, it's a ton of other high school teams and professional and studio teams that you go up against in tons of tons of different categories. And then at the end of the day they award different awards for different categories, and it's just a really fun experience.
The Wrangler: Is there a lot of team work or more individual work that goes into dance?
McNair: I'd say it's definitely a team effort because you know when we're dancing out there, there's not one girl there's 38 this year! So yeah definitely team work.
The Wrangler: Do you all get along and do you support each other?
McNair: Yeah definitely! We're like a tiny little family . . . or a big family this year!
The Wrangler: Do you want to go to college for dance, or do you have another career path?
McNair: At this point in my life I'm pretty unsure of what I want to do. Um, I love to dance. I don't know, in the future I might be dancing on a college team. I guess we'll see.
The Wrangler: Do you have a favorite dancer?
McNair: specifically, no. But I do love the whole cast of "So You Think You Can Dance" and I really look up to a lot of the dancers at George Ranch, too.
The Wrangler: How does balancing theatre and dance affect you, and on a scale of 1-10 how difficult is it?
McNair: Oh it's a ten, definitely! It's pretty difficult, but I'd say it's one of the greatest things I'm allowed to do at this school and its awesome that I'm allowed to do it because coming into high school I was like "I don't know if I'm going to be able to do this." but it works because I love them both so much so it's not a hassle for me to go to both, I just want to.
 The Wrangler: What is the most difficult aspect of being involved in both?
McNair: Scheduling. Definitely scheduling. Sometimes I have to miss and I realize that that's difficult and I have to work twice as hard as everyone else to get where they are but it's ok because I do love them both so much.
The Wrangler: Do you prefer one activity over another?
McNair: No, I love them both, I really do.
The Wrangler: Are dance and theatre similar? What are some differences between the two activities?
McNair: They're definitely similar, like in dance there's a lot of facial expressions and a lot of charismatic acting that goes into it, and in theatre, we do musicals every year and there's a lot of dancing and singing and musical numbers. So there's definitely similarities. Differences would include the groups of people, it's like two different worlds.
The Wrangler: Is there anything else you would like The Wrangler to know about you, some of your interests or hobbies?
McNair: I also love school, I mean I work really hard academically but that's all. I just really love what I do and I'm really enjoying my high school experience.
About the Writer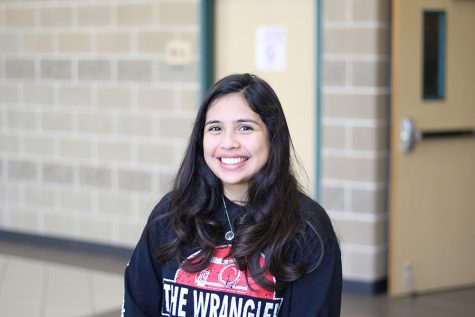 Averi Cervantez, Staff Writer
Averi Cervantez is a senior at George Ranch. She enjoys reading, writing, and being with friends. Averi is currently involved in Student Council and NHS....