Panic! At the Disco's Death of a Bachelor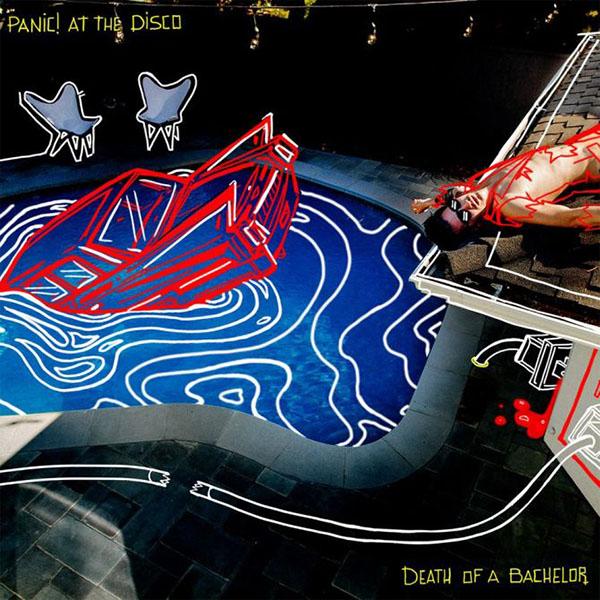 Panic! At the Disco's new album, Death of a Bachelor, was released on January 15th, 2016. This was the first album released without drummer Spencer Smith, although he was with the band on their four other albums: A Fever You Cant Sweat Out (2005), Pretty. Odd. (2008), Vices and Virtues (2011), and Too Weird to Live Too Rare to Die (2013). The album features Brendon Urie's vocal range, and an angsty list of 11 songs that have catchy and unique sounds. Death of a Bachelor has its own vibe compared to the other albums, with a more lively beat.
1) Victorious is the first song featured on the album. With alternative and unique sounds,  this is the best song to dance around to in your room. This has the same confident trend of many recent pop punk song anthems.
2) Don't Threaten Me With A Good Time is the ultimate party song as he talks about one wild night. The feeling you get when you are about to get caught doing something wrong and the regret you have the next morning is thoroughly represented in this song.
3) The third track on the album is Hallelujah and was released as a single before they dropped the album. Horns and a choir in the background give the song a more lighthearted and gospel feeling, but still with the obvious rock tones.
4) Some may deem Emperor's New Clothes as weird and too different for them, but the people who have been with the band since their Too Weird to Live Too Weird to Die album understand the underlying meaning of death, your inner demons, and possession. As Urie fights with his own internal conflicts, he allows his demons to win.
5) Being the title of the album, Death of a Bachelor lives up to everyone's expectations and more. This song includes powerful high notes and a soft edginess that anyone will enjoy. Being more laid-back and easy going, this song still creates those fresh sounds that are incorporated throughout the album.
6) Crazy=Genius is a head banger. It alludes to many other musicians like Brian Wilson (best known for being a part of the Beach Boys). An abundance of energy allows the artist to show his true feeling and emotion in the song. The speaker is struggling with being too boring or lame for his significant other.
7) The seventh song in this album is LA Devotee. It explains how someone fell in love with the cruel but lavish lifestyle that Los Angeles offers.
8) Golden Days is Urie reminiscing about the years when he was "forever young". A definite rock and nostalgic theme brings you back to the good ol' nineties when the rock music was pure gold.
9) The Good, The Bad, and The Dirty is another song with a more laid-back tone but still has a powerful pop punk chorus. It also has a dark and sensual tone.
10) Like some other songs on the album, House of Memories has an eerie feel that showcases the band's diversity. The singer is wanting to be remembered "in your house of memories" forever even when others will go on with their lives.
11) One of the slowest songs on the album, Impossible Year exhibits Brendon Urie's admirable vocals as he speaks of a different time in his life when he believed all hope was lost. He was filled with fear and sorrow for love and how insincere humanity is, and ones own dreams.