Howdie Christian Macias!
Christian Macias, also referenced as "Bear" around school, is a senior and  student athlete. Macias has done many sports, like track and basketball, but his favorite is football. Macias is a wide receiver on the varsity football team.
The Wrangler: Where did the name "bear" come from? 
Macias: The name bear came from my mom when I was younger. I was a big baby and that's  where it came from.
The Wrangler: How and when did you get into football? 
Macias: I got into football when I was in the third grade. A friend of mine introduced me to his dad that was a coach for a little league team, and he talked to me about it so I decided to try it out.
The Wrangler: What are you expecting from the football team this year? 
Macias: This year I'm expecting us to make it far again just like the last. We just need to put in the effort and work harder then ever so we can make a run for another state championship.
The Wrangler: How has switching into 6A impacted practices and games? 
Macias: Moving up to 6A is quite a challenge. We really have to work harder because these are bigger schools now. We have to be more physical and more smart and just overall work together as a team.
The Wrangler: What is going through your mind when you're in a game? 
Macias: During the games I always think that I have to do the best possible and give it all I got.
The Wrangler: Are you nervous during the games? Why or why not? 
Macias: At first I am because I'm always scared to mess up and do something wrong, but after the first play I feel more confident.
The Wrangler: How does being a state champion feel this season compared to the last season when you played in the game? 
Macias: This season, it feels like there's more pressure because people are expecting us to make a run again for the state title.
The Wrangler: How would you feel if the team won another state championship? Why? 
Macias: It would feel great if we won another state championship, because this is my last year being in high school. Knowing that we won back to back would be a great way to end senior year.
The Wrangler: Who are your biggest supporters? Why? 
Macias: My biggest supporters are my mom and grandparents because they are always pushing me  to my limits, and motivate me when I'm down.
The Wrangler: Do you have any interests in playing football on the college level? 
Macias: I do wish to play football in college.
About the Contributor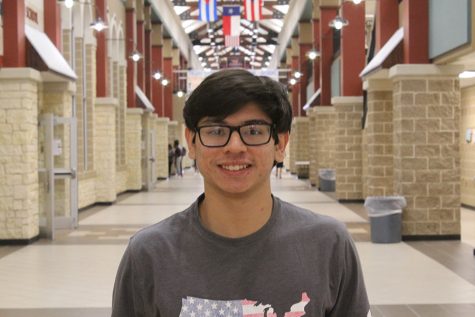 Hunter Rubio, Staff Writer
Hunter Rubio is a senior who enjoys listening to  music and having fun. This is his first year on the newspaper staff, and he's looking forward to all...