Album Review: Good Kid, m.A.A.d City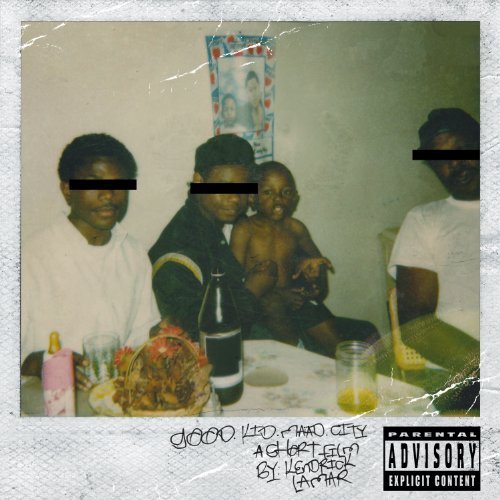 Album Rating: 9.5/10
It is a story that has been told many times before: a young black kid born in the "ghetto." In Good Kid m.A.A.d city, Kendrick Lamar tells the story again. But he tells his version of the story, his coming-of-age as a teenager born in Compton, California; living in a city plagued by a never ending cycle of gang violence, poverty, and drug abuse.  He tells the tragic stories of those who shared his experiences, the death of his friends that succumbed to the gangster lifestyle. He speaks of the temptations that surrounded him and the consequences.In the process, he creates what is arguably the best hip-hop album released so far in 2012.
The album begins with Kendrick rapping over a dark eerie beat about a girl named Sherane. He  tells the story of how he met Sherane through a house party on El Segundo and Central, exchanged numbers, and talked throughout the summer. Through the song, we find out that Sherane has a history of gang-banging, but of course, being a teenage male, Kendrick doesn't care. The song ends with him rapping about coming to Sherane's house in his mother's van but discovering two men in black hoodies waiting for him. The next track flashforwards and depicts a famous Kendrick rapping about the consequences of his fame and its effects on how people treat him.
The third track features a bass heavy beat produced by Hit-Boy as the story flashes back into a scene with Kendrick (called K.Dot)  and his friends driving around the city and having fun while freestyling on the back seat. The next track rolls in and we get to see the darker side of the story. After driving around the city with friends, K.Dot is now introduced to drugs and alcohol, and soon, he himself is partaking in these activities. He knows that what he does is wrong even accepting the fact that he's only doing this due to peer pressure saying "Really I'm a sober soul / But I'm with the homies right now." The night takes a turn for the worse when K.Dot and his friends decide to rob a house they had been watching for two months. Once done robbing the house, they end up in a car chase with the police but somehow escape.
The story continues through the fifth track Money Trees featuring fellow Black Hippy member Jay Rock who performs an excellent verse. The song features K.Dot summarizing the previous events. The sixth track in the album  Poetic Justice features Drake, who raps a good verse but is outshined by Kendrick who raps about his relationship with Sherane. The song ends and the story is back to the present. The two hooded men who are standing infront of the car end up jumping K.Dot which concludes the first half of the album.
The second half of the album begins with K.Dot's revelation in Good Kid He begins by rapping about the negative effects of gangs on the first verse, police brutality in the second, and  in the third, how all the pressure soon causes him to lose control and turn to drugs. The pace shifts in M.A.A.D City with a more aggressive beat, and Kendrick in turn switches into a more urgent flow, he raps a terrific verse wherein he reminisces about the people he lost due to gang violence. The beat switches up in the middle and both Kendrick Lamar and MC Eiht rap a verse about the hopelesness that fills the city.
An extended version of the albums second single Swimming Pools comes in as the ninth track ( the album's first single The Recipe  ends up as a bonus track on the deluxe edition).  Kendrick raps about growing up around alcohol and in the second verse switches up his flow yet again and raps as his conscience. The song ends and another skit enters, K. Dot and his friends are now planning revenge on the people that jumped him. The group drives and sees them and a shootout follows. K. Dot survives, however one of his friends, Dave is shot and killed.
The next track Sing About Me, I'm Dying of Thirst comes in and Kendrick raps from three different perspectives. The first from Dave's brother who tells Kendrick that he appreciates Kendrick's love for Dave. Dave's brother tells Kendrick that when he makes it big as a rapper to "sing about him." Dave dies before the album's release. The second verse references one of Kendrick's songs in Section.80, Keisha's Song. Kendrick raps about Keisha's sister who, like Keisha, is also a prostitute. Keisha's sister, however, is proud of her lifestyle, and unlike Dave's brother, doesn't want Kendrick to sing about her. In the last verse, Kendrick raps from his perspective. He talks about how music saved him from the "gangster" lifestyle, and how his friends and the peoples experiences around him, pushed Kendrick to talk about real issues instead of pretending to be a character he isn't unlike most other rappers.
A skit continues with K.Dot and his friends discussing a possible retaliation against Dave's death. K.Dot however has had enough and the song tranisitions to the second part of the song where Kendrick raps about how he is "tired of running." Another skit follows when a woman sees K.Dot and his friends carrying guns, planning for retaliation and leads them in prayer. She then tells them to "remember this day, the start of a new life."
The eleventh track of the album continues where Kendrick reflects and raps to his friends about their materialistic desires. He raps about love and temptation, and finally about how having things like money, respect and power does not really make him "real." The track ends with phonecalls from Kendrick's Mom and Dad, both giving him words of advice and telling him not to fall in the trap that so many before him have. Her mom also tells him about how Top Dawg (Kendrick's record label) called and that when Kendrick makes it big, to give back to his city, to "tell these black and brown kids of compton [and] let them know that you was just like them." To tell them that Kendrick rose from that dark place of violence and how he made it into a better person.
Compton, the final track of the album soon follows. Kendrick – now succesful – raps over grandiose Just Blaze production with fellow Compton native (and real life mentor) Dr. Dre about their city. They celebrate their city and conclude the album.
Altogether, Kendrick created a fantastic debut album. The production of the album meshed well together despite there being numerous producers. The subject matter speaks for itself. The lyrical ability of Kendrick is indubitable, and mixed with his ability to create multiple flows just emphasizes it even more. Furthermore, he created a cohesive album with a great concept. Kendrick told his story and told it well. Good Kid, m.A.A.d city is undoubtedly one of the best albums of 2012. And, in a matter of time, just might be considered a classic.