Greek Immigrant Finds New Life in America
One girl's journey to the land of opportunity.
Many people in America today don't realize how great they have it.  Little things like warm meals and bed to sleep in are taken for granted every day by many kids in The United States.  Some people, like Georgia Papasarondopoulou*, grew up in poverty during WW2, and had to eat bits of food off of olive pits that the Nazis had spit on the streets.  Bedtime meant flicking fleas off of her blanket and sleeping on the floor.  A little bit of food, a decent blanket, and a country without war were all things that were far from heard of in 1940's Greece.
Georgia Papasarondopoulou was born in 1940 in the small southern village of Vasilitsi, Greece.  Her family consisted of her mother Evyenia, her father Aristeide, and four siblings: another Georgia, Ernie, George, and Vasili.  The other Georgia died before Georgia was born.  Her mother was killed after being shot by a communist Guerilla, who stood for communism rather than democracy.  Her father was then killed fighting as a Greek soldier.  Soon after, Vasili died of starvation.  Due to all of this, Ernie, George, and Georgia were taken into care by their grandmother, who raised them with the help from their relatives across the street.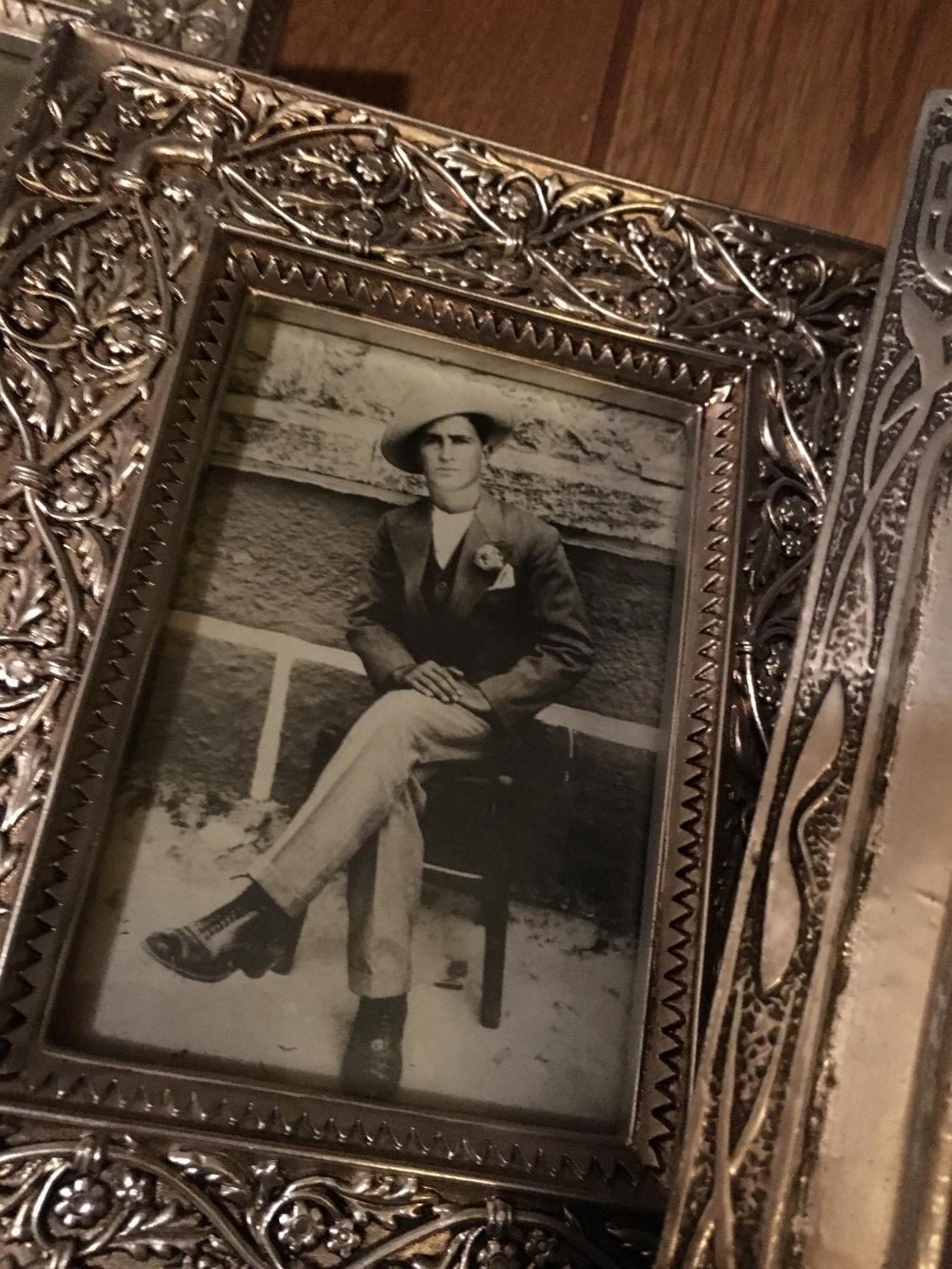 Vasilitsi was a dangerous place to live at the time because it was constantly being besieged by either the Communist Guerrillas or the Nazis.  Though Greece had won the first allied victory of WW2 to the Italians, they were still weak and war-torn.  

Growing up, Georgia was harassed by her teacher who taught all of the grades in the village school.  He would beat her daily, until finally, her Grandmother had to go in and say something.  The teacher switched to cussing at her, but there was no way to win with him.  After all, his anger wasn't all being taken out on Georgia.  Ernie was enslaved by the teacher and had to report to his house to work after school every day.  He would do work that no one dreamed of doing, but worst of all, he received nothing for it.  Though his family needed food, money, clothing, bath products, and so much more, he went home and his siblings still cried of starvation and wore clothes that were sizes too small.  If Ernie failed to show up, he was forced to kneel down on spiky rocks and bleed.  

In Greece, the Greek Orthodox Church played a big role in Georgia's life.  The church was the source of every holiday they celebrated and many of the times the people smiled.  They were strong in their faith and knowing that they had God on their side kept them going.

Though meals for Georgia and her brothers were normally sparrows, a small piece of goat cheese, boiled flour (which looks like bread, but according to Georgia was disgusting), figs, or olives. Their cousins in Koroni, the next village over, were extremely wealthy.  Occasionally, Georgia would go over and do work in Koroni to help her cousins work their pasta business that made them so much money.  It was not enjoyable to her, however, because her cousin Panayoti was rude to her.  One day, she decided that she had had enough and ran away while Panayoti chased her.  He was not able to catch her, however, because he was too short to run fast.

The majority of Georgia's cousins, however, were kind.  Her best friend was her cousin Maria who lived across the street.  The two girls were close in age and loved spending time together.

"

Greece gave me life, but America gave me opportunity. I'm American first."

— Georgia Papasarondopoulou Poutous

"

In 1951, it was decided that Ernie, George, and Georgia would emigrate to the United States.  They had an uncle that already lived there and was willing to pay for the trip. Though the kids were afraid, this was long overdue because of the suffering that they had to endure in Greece.  They were driven to Athens to emigrate but then learned that they could not because George was sick.  Because of this, they were sent back to Vasilitsi and stayed for three weeks before their grandmother decided that they should attempt at emigration again.  They went back to Athens and spent three weeks in a monastery with their uncle who was a Greek Orthodox monk.  The monastery was luxurious compared to the living conditions in most of Greece, and it even had a bathroom, which was something that Georgia had never seen.  She recalls standing in there trying to figure out where to use the restroom.  She saw a white chair and a "fancy" sink and decided to go in a drain.  

When the three weeks passed, teenage Ernie and George and eleven-year-old Georgia boarded a ship called the Nea Hellas, which means "New Greece" in Greek.  They were on the ship for two weeks. It had a buffet of foods that looked delicious to the kids, but unfortunately, they couldn't eat any of it because they were too seasick.  

The part of America that the Papasarondopoulos kids saw was the Statue of Liberty.  It was a promise of hope that they had a shot at a new life.  They stopped at Ellis Island to be vaccinated and then arrived in New York City.  As soon as they arrived, a random family signaled them to get in the car with them.  The kids knew no better because they didn't speak any English and had never learned about stranger danger.  In this case, that was a good thing because the kids' uncle Bill had sent the family to pick them up.  They were driven to Ogden, Utah, and brought in to their Uncle Bill's restaurant, where he met them and spoke to them in their native language of Greek.  This comforted the kids in a time of fear.

They were immediately given new clothes and had their hair professionally styled for a picture.  In the picture, the kids have real smiles on their faces, knowing that they have freedom and opportunity.

Soon after meeting their uncle, the three kids moved in with some other relatives that they had in America.  Georgia shared a room with her cousin Connie and started in school as well.  At first, she was put in first grade because she didn't speak any English, but she learned quickly and was moved up to her correct grade level.  She especially enjoyed playing baseball with the boys at recess.  They all wanted her on their teams because she was incredibly strong.  This is why she decided to play volleyball in middle school.  "I was the VIP of my volleyball team," she tells people today even though she was the MVP but English is not her first language.  

Georgia was offered a college scholarship in high school but had to decline due to inconvenience, so she did the next best thing and went to business school.  After this, she worked in several family businesses with Ernie and George, who had joined the workforce as soon as they arrived in America.  Georgia also worked at several banks.

Georgia's dream of having a family came true when she married Elias Poutous, who was a Greek whose family immigrated from Chios Island.  She had three kids: Michael, Maria, and Evyenia, and has seven grandkids today. "My only goal was to have a family, and I accomplished it," she says.  

Today, Georgia spends time researching her family's history and working around the house.  She loves to visit Greece and see her family, especially Panayoti, who is an incredibly kind and funny man today.  Georgia is still a Greek Orthodox Christian, as is her entire family.   She still loves goats like she always has.  When people come into her house, she greets them with kindness and gives them food, which is a Greek custom that she and her family still hold too.  However, she claims to be American first. "Greece gave me life," she says, "but America gave me opportunity.  I'm American First."

*Georgia Papasarondopoulou is the writer's Grandmother.

The Washington Oxi Day Foundation