CES 2018 Highlights
So many products worth talking about!
The Consumer Electronics Show, an event known for showcasing new and innovative technology, happened last month and should provide some insight into where technology will be centered over the rest of the year.
A highlight so far at this year's event has been what tech company Acer says is the world's thinnest laptop, the Swift 7, with impressive specs and being literally half the size of a dime, this isn't something to pass off.
Hardly a laptop with more value than a tablet Project Linda, a new Razer product, seeks to turn your Razer phone into a glorified tablet. While this may not be the first time a company has developed something like this it reigns true to the companies roots of PC gaming. Basically, a plug and play display that improves user experience. It can maintain the phone's adaptive refresh rate, charge the phone while it is docked, and provide an additional 200 gigabytes of data storage. You can't have Razer without RGB and Project Linda provides just that in its keyboard and while we do not currently know the type of switches it uses it may be safe to assume it will have similar switches to the blades Razer's line of premium gaming laptops.
Nvidia's press conference revealed a lot about the companies moves in the upcoming year. With advances in their chip development, they are setting themselves up to be depended on in the automotive AI market with NVIDIA DRIVE PX. They have also attracted big-name customers such as Volkswagen and Uber to their list of customers for the AI. Nvidia's new "BFGDs" or big format gaming displays bring the living room to pc gaming. No longer do you have to worry about latency issues if you use a tv with your computer, with a small investment of your life savings you can have a monitor that weighs more than a small child and displays at a higher refresh rate. Winning a lot of awards this year this company is nothing to scoff at as they are making waves in the industry.
A big thing this year has been the AI demonstrations and all the different robots. Notable robots from the event are as follows: LG's CLOi, Hanson Robotics' Sophia, Sony's revamped Aibo, Aeolus, Ubtech's Walker, and Blue Frog Robotics' Buddy.
About the Contributor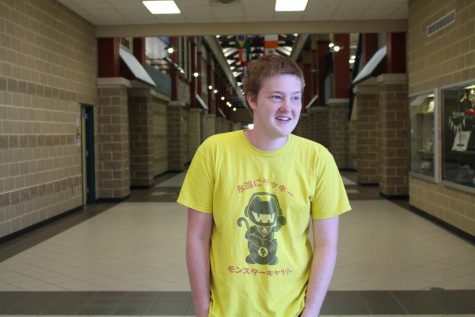 Kyler Telge, Staff Writer
Kyler Telge is a senior and has been on The Wrangler staff for two years now. He enjoys working, listening to music and playing video games in his spare...