Holy Roast Coffee House
Is it worth spending your money?
I was standing outside wondering if I was at the right place because the coffee shop is an actual house. As soon as I walked in, I was greeted by the good-looking barista (if you won't go for coffee, at least go to see the barista). The place smelled like coffee, but not an overwhelming smell. It was strong enough to show itself present, but not strong enough to make you choke every time you breathe.
I was with my friend and she had obviously already been there before because she didn't struggle to order like I did. The barista came to my rescue and asked me how hungry I was. He advised me to get "The Egg" which is bread stuffed with egg, cheese, bacon and tomatoes. My friend got the caprese panini. I'm not a big fan of coffee so I struggled in this area too, but I ordered the first thing I saw, a Caramel Latte. My food was ready pretty quickly.
Before I actually ate my food, I had to take a quick picture of it because it looked so aesthetically pleasing. You know, like a basic teenager who snapchats everything that happens in her life.
As I bit into "The Egg" I felt my soul come out of my body and do a little dance. Yes, it was that good! It was so delicious that I dragged my aunt to Holy Roast Coffee Shop the next day to get another stuffed egg. I had never tried a scrambled egg with so much flavor. I took a bite out of my friend's panini and it was good. It wasn't out-of-the-ordinary good, but it was good. It tasted exactly like the Starbucks caprese panini. Now the latte, it was whack. But I'm pretty sure I'm saying that because I don't like coffee. My friend loved her latte.
After we ate and conversed for awhile, we went to the second floor. The second floor has a cute library and just a really clean look for pictures. We had a little photoshoot.
Food was amazing! Ambiance was great! GO! Go eat here. "The Egg" is definitely the way to go.
About the Contributor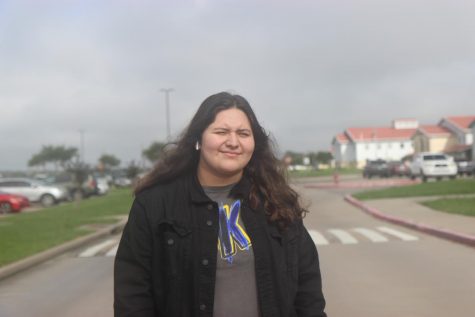 Daniela Hernandez, Online Editor
Dani Hernandez is a senior and this is her second year on the Newspaper Staff. She is now an online editor. Dani enjoys hanging out with friends and loves...