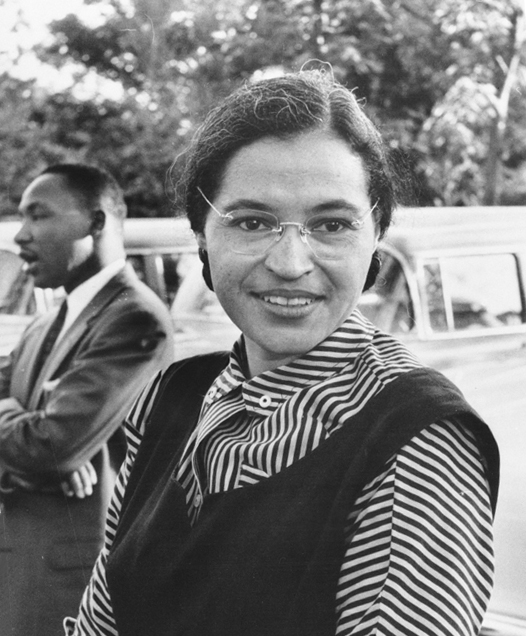 Rosa Park's History and Impact Today
Most people have heard of how Rosa Parks impacted the black community, but how does she contribute to life for blacks today?
Rosa Parks grew up as a normal child but became a well-known face for the black community. On February 4, 1913, Rosa Parks was born. She grew up with her mom who was a teacher. As a child, she moved from the school she attended, Alabama State Teachers College for Negroes after her grandmother became ill. She faced discrimination growing up, so she became a participant in the civil rights movement from a young age. Before her most-known arrest, she had one encounter with being forced to give up her seat for a white person. At as young as age 7, Rosa Parks paid for a seat up front. When a white person came on the bus, the driver told Parks she had to give up her seat and sit in the back. Since she had already paid for a seat up front, she refused. The bus driver decided to get up from his seat and remove her from her seat. Parks left the bus because she refused to give up her seat for someone else, despite having already paid for that seat. After that incident, she didn't have any more incidents until the big arrest in 1955.
Rosa Parks got married to Raymond Parks, who encouraged Parks in her efforts to get a high-school diploma, despite her color. Rosa and Raymond Parks lived in Montgomery which was under the Jim Crow laws, laws that made sure segregation laws were enforced in the South, so they faced discrimination and segregation. Since Parks was under such rules, she decided to become active in the black community by participating in the NAACP (National Association for the Advancement of Colored People). She became chapter secretary and helped the president of the association, Nixon, who advocated for black people to have the right to vote. As part of the NAACP, Parks refused to give up her seat for a white person to help advocate for black rights.
On December 1, 1955, Rosa Parks was confronted to move from her seat. She was coming home from work and sat down on the front of the bus. After sitting down, she was asked by the bus driver to give up her seat for a white person. Parks refused because she was tired of segregation and black people having to give up their seats on the bus. It took courage to remain seated. After her refusal to move from her seat, Parks was then removed from the bus and arrested. People saw what Parks was arrested for and decided to collectively begin the boycotting of Montgomery buses.
The boycott inspired the creation of the MIA (Montgomery Improvement Association). The association was to improve laws, including segregation laws. On November 13, 1956, segregation on buses was made unconstitutional by the Supreme Court. Parks was known as the "mother of the civil rights movement" because of the impact she had on the rights of black people.