Flo-Jo
The fastest woman in the world.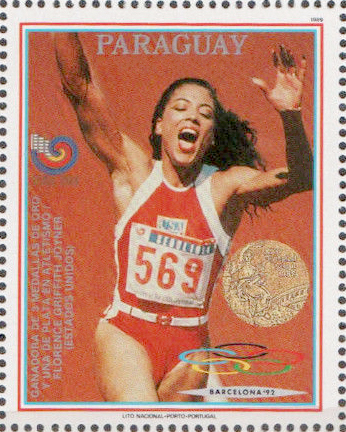 She was fast.
In fact, no, she wasn't just fast. She was supersonic, blazing down the track like nothing they'd ever seen before.
21.34 seconds. She ran the 200-meter in 21.34 seconds, breaking the world record and stunning the Olympics crowd in Seoul, as well as all over the globe.
She was different, with her colorful, quirky running-suits and her long nails. The confidence, the power that radiated off of her every time a foot touched the ground.
Ladies and gentlemen, meet FloJo, the fastest woman in the world, whose records for the 100 and 200-meter sprint in 1988 still haven't been broken.
Born Delorez Florence Griffith in Los Angeles, California, 1959, Griffith began chasing jackrabbits at age seven to increase her speed. In 1980, at the University of California, Los Angeles, the track star-to-be won a silver medal in the 200-meter race; she caught the eye of many when she hit the media with her colorful racing suits and embellished 6-inch fingernails. However, she was disappointed with her performance and decided to go into semi-retirement.
"
Ladies and gentlemen, meet Flo-Jo, the fastest woman in the world."
Rededicating herself to the sport in 1987, Griffith adopted an intense weight-training program and altered her starting technique. She married Al Joyner, the 1984 gold medal winner in the triple jump and brother to Jackie Joyner-Kersee, a heptathlon champion. These changes in her training produced remarkable results.
At the 1988 Olympic trials, Griffith Joyner set a record for the 100-meter sprint with 10.49 seconds, beating the old mark by .27. At the Seoul Olympics later that year, she received three gold medals (100 meters, 200 meters, and 4 × 100-meter relay) and a silver (4 × 400-meter relay).
In 1988, the track star received the Sullivan Award as the nation's top amateur performer. Even though her exceptional performances sparked rumors of steroid use, drug tests revealed no banned substances.
According to The Editors of Encyclopaedia Britannica, after retiring in 1989, Griffith Joyner established a foundation for underprivileged children, and from 1993 to 1995 served as the co-chair of the President's Council on Physical Fitness. A comeback attempt in 1996 ended following a leg injury. She was inducted into the Track and Field Hall of Fame in 1995.