Eleven Years Later…
A high school senior who hadn't visited her family's country in so long and once she went back she had a lot of eye openers.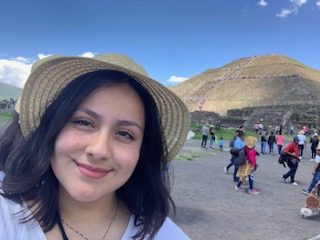 Eleven years… eleven years since she had gone to Mexico, eleven years since she had seen her family, eleven years that she hadn't realized many things. 
Kimmy Diaz is a senior whose family is from Cuidad de Mexico. The last time Diaz had gone was when she was six years old, in the summer of 2008. Eleven years later during this past summer, she went with her thirteen-year-old sister and they were there for five weeks.
"
"I learned that I loved Mexico more than I already did".  "
 "The thing I enjoyed the most about this trip was all the family I got to meet and them telling me stories about my parents' childhood. I plan on going back next summer," Diaz said. 
While Diaz was in Mexico, she got to do new things and learn new lessons. She got to visit parts of Mexico she had never been to, including Chapultepec, Nicolas Romero, and Teotihuacán. 
"I learned that I loved Mexico more than I already did," Diaz said.  
Not only did she have lots of fun, but while doing so she matured, learning not to take anything for granted as well as that you can be happy with anything. 
"The responsibility that younger kids carry: they have to work at a young age to make a living. How everyone gives it their all and nothing is handed to them. Everyone there has a bigger sense of responsibility". 
Seeing how everyone works and has to find a job to survive from a very young age opened up her eyes and allowed her to view things from a different perspective. Also, watching everyone be happy no matter how they were financially, or if they had advantages others couldn't have, had the same impact. 
"The thing that caught my attention was how they don't have much things like phones, TV, air conditioning, but they have such a happy life and they don't ask for much," Diaz said. 
Diaz would like to encourage people to go visit Mexico because even though her family is from there, going back after many years the trip was an eye-opener to her that made her grow while also enjoying her time there. 
"Everyone should go and experience Mexico. It will be something new, it has an amazing culture, and it's not as dangerous as everyone says. It is an amazing place with nice people."