Howdie David Sierra!
David is in his Junior year of high school here at the Ranch. He talks about excelling in ROTC.
The Wrangler: Why did you join ROTC?
Sierra: I plan on joining the military and I felt that the class would help prepare me.
The Wrangler: How do you think ROTC has shaped your high school career?
Sierra: It has made me more aware of my responsibilities not only in ROTC but in other classes as well.
The Wrangler: What is your plan for life after high school?
Sierra: I plan to join the army, but I might go to college first and work my way up to become an officer.
The Wrangler: What or who is your biggest inspiration? 
Sierra: My parents inspire and push me to be the best I can be.
The Wrangler: Do you think ROTC has prepared you for the real world? Why or Why not?
Sierra: I think ROTC has given me strong leadership qualities and shown me how to work hard in order to reach my goals.
The Wrangler: If you don't do the military route as a career what would you do and why?
Sierra: I would definitely still do something in law enforcement. Something that could benefit the community.
The Wrangler: What was your first impression of ROTC?
Sierra: At first it was hard to get all the procedures right and doing everything asked of me but in the long run, it all paid off to me earning a leadership position.
The Wrangler: What would you say was your biggest challenge while being in ROTC?
Sierra: learning to work with people I don't necessarily respect.
The Wrangler: What other school activities have you participated in?
Sierra: Swim, Soccer, and PALS
The Wrangler: What do you like most about ROTC?
Sierra: Being able to have fun in a professional way.
About the Contributor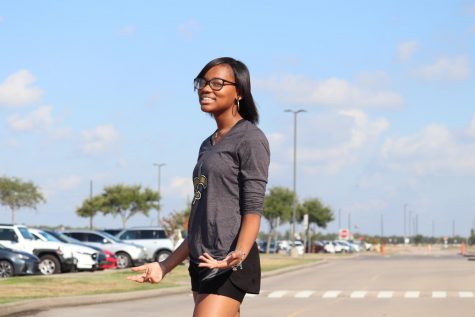 Princess Sinkambe, Staff Writer
Princess is a senior this year. It is her second year on the newspaper staff. She enjoys trying new foods and dancing when everyone or no one is watching....