Howdie Ms. Hill!
Ms. Hill has been teaching at George Ranch for three years. She started out teaching freshman English, but has been teaching seniors for the past two years now.
 The Wrangler: What made you start teaching?
Ms. Hill: Honestly, I was fresh out of college with an English degree and I wanted to travel the world and write. However, life happened, and I discovered teaching.

The Wrangler: How has COVID-19 changed your perspective of teaching?
Ms. Hill: My perspective of teaching changed in the sense that this is not a normal job! As a teacher you are required to wear many hats and with the complications of COVID I found more hats to put on!
The Wrangler: What is your goal for this year?
Ms. Hill: My goal this year is to somehow figure out how to teach virtual and in-person students without stress.
The Wrangler: What drew you to teach at George Ranch and why?
Ms. Hill: Three years ago, Dr. Black saw something in me and [when I] compared [it] to the other job offers I had at the time, [they] did not seem like the right fit.
The Wrangler: What is your favorite thing, outside of learning, at George Ranch and why?
Ms. Hill: I always say I experience life through food. I am always looking for new places to eat and I love to try foods from different cultures.
The Wrangler: What college did you graduate from?
Ms. Hill: I graduated from Prairie View A&M University.

The Wrangler: Why did you choose to teach English?
Ms. Hill: I chose to teach English because it was what I studied in college, but ultimately, I love to teach and see other people fall in love with writing the way I did.
The Wrangler: Did you ever consider any other professions and what were they?
Ms. Hill: I did, and I currently am! I am in grad school getting my Master's in International Relations. I have nailed down the profession, but I am currently on the track for International Diplomacy and Conflict Resolution.
The Wrangler: How do you strive to change students' lives?
Ms. Hill: I strive to change students' lives by getting them to understand that there is a much bigger world out there and that world needs someone like them.

The Wrangler: What is the hardest thing about being a teacher and how do you overcome the challenges?
Ms. Hill: Do you want the truth?? LOL! The hardest part is finding the balance between work and my personal life. Teaching in-person and virtual requires me to work after school and on the weekends and that is frustrating. Right now, to overcome that I make sure to put my personal needs first and I take time to invest in my family and friends before I immerse myself back into work. We have a rule that we can't rant about work for more than a few minutes before we move on to the next subject, I also deleted my work email off all my personal devices and that has helped tremendously!
About the Writer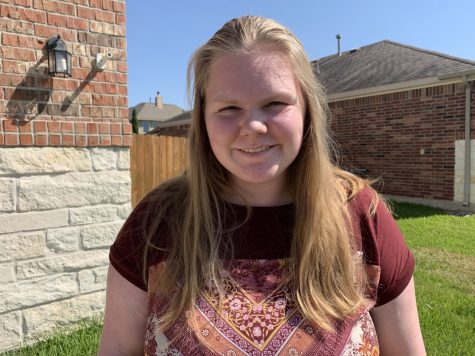 Kabria Earp, Staff Writer
Kabria Earp is a Junior and this is her first year working on the staff. She is on the school's swim team and enjoys watching Illinois college basketball!

Favorite...