COVID-Friendly Fall Fun
COVID-19 may have cancelled all sorts of events and activities, but not Fall fun! Despite conditions and regulations, there are still ways to have fun this Fall season with friends and family.
While in an on-going pandemic, it may feel like everything is canceled.
With the Fall season upon us, finding activities that are "COVID-friendly" can be difficult, but not impossible!
Whether you're on a budget or not, here are some fall activities that you can participate in with friends, family, or alone while following all guidelines given.
Neighborhoods Filled with Halloween Decorations:
Similar to driving around a neighborhood looking at Christmas lights, tons of houses go all-out for Halloween. Although decorating for Halloween isn't as popular, there will be houses that are worth the drive.
After the sun begins to set, you can begin to venture around in a car to view different decorations. From blow-ups to realistic-looking, you'll see a wide variety of festive decorations on houses.
"
remember the key things: wear a mask, socially distance, and avoid crowds"
— Ashley Wandling
Picnics with Friends and Family:
The weather is getting colder, meaning it's Sweater Weather! It's also desirable weather to enjoy going outside.
With a small group of friends, you can easily social distance, bring your own snacks, just make sure to wash your hands! Having a picnic with friends is a great way to get together and hang out in a cheap, effective, and safe way to hang out with friends during the Pandemic.
Jack-O-Lantern Carving:
Tools for carving a Jack-O-Lantern run fairly cheap: most of them are under $10. Even without any artistic skill, carving Jack-O-Lanterns is a safe activity to do inside or outside! You can create
Making Fall Sweets:
It's Fall, meaning pumpkin-themed sweets are in season! My personal favorite is baking pumpkin bars. All it takes is a few basic baking ingredients, cream cheese frosting, and the most important ingredient, pumpkin!
Movie Night:
Lights out and screens on, because movie nights are about to be like no other! Get popcorn, M&Ms, or your favorite movie snack and gather the best Halloween movie marathon anyone has ever seen.
If with friends or family, you can rotate between who chooses the next movie. Be aware, some movies are spooky and will make you jump at every scare, while others are entertaining cartoons.
It will be a night to remember. Even better, movie nights can be within the comfort of your own home!
Whatever activities you decide to participate in, remember the key things: wear a mask, social distance, and avoid crowds!
This fall season won't be a normal one, so it is important to follow all guidelines in order to keep yourself and others safe. If people aren't following guidelines, don't be afraid to leave the area—your safety is a higher priority than having a good time.
Most of all, enjoy this fall season!
About the Contributor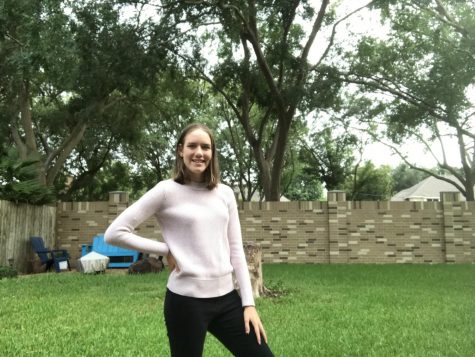 Ashley Wandling, Staff Writer
Ashley Wandling is a senior and this is her third year on the Wrangler Newspaper Staff. She is also going on her fourth year in both the school band and...