Book Review: Once Upon a Prom: Dream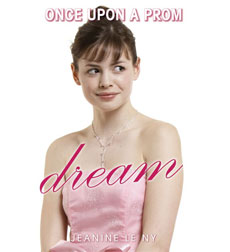 Once Upon a Prom: Dream | By Jeanine Le Ny
Paperback Price: $5.99
      Prom is the biggest event of the year for juniors and seniors. This time is special for seniors because it's the last big night to have fun with everyone before they go to college. If you are a teenage girl who likes fictional romance books, then you will love Once Upon a Prom: Dream.
      In this novel, which is the first in the series, three best friends have been anxiously waiting for the senior prom. All the girls are deciding what to do for prom. The weeks of planning the details could make this night the best night of their lives.
      Jordan has everything; she's popular, a cheerleader and is dating the hottest guy in school. Despite this, it doesn't mean that she really wants to be Prom Queen.
      Tara, one of Jordan's best friends, is head of the prom committee. She wants to make prom perfect, but she can't find the perfect prom dress, and she doesn't have a date. When a secret admirer keeps on sending her texts, she thinks that maybe he's the right guy. The only problem is Tara doesn't know who he is. She sets out to discover who the secret admirer is, but will she find out in time for prom night?
      Nisha, an Indian girl, has high hopes for attending her first prom. However, her strict parents are posing an obstacle to her perfect prom night. Their policy is no dating, but they don't even know that their own daughter has a boyfriend, Brian. Nisha really wants to go to the prom with Brian but she is definitely not planning to tell her parents about it. Her parents are so old-fashioned, and they don't understand the importance of prom. Will she convince her parents to let her go to the Prom?
      The limos have been ordered, and now they need dresses. Will all the girls make their prom dream a reality, or will it turn into a disaster?
      Dream is the first book in the Once Upon a Prom series by Jeanine Le Ny. Even though this book was published on February 1, 2008, it still appeals to many teens. So be sure to read all three books, in the series: Dream, Dress and Date. Find the whole series in the George Ranch High School Library, or buy it at any local book store.