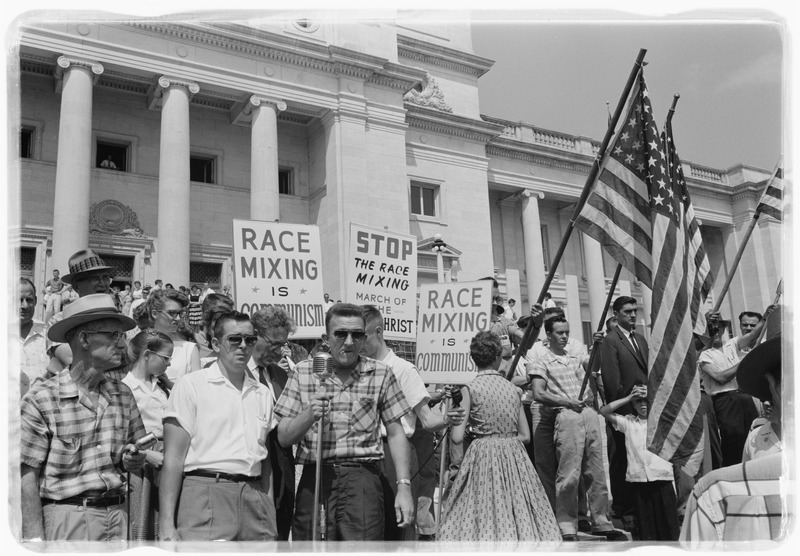 Bledsoe, John T. https://picryl.com/media/little-rock-1959-rally-at-state-capitol
The Little Rock Nine: Impacting America More Than a Little
The Little Rock Nine helped pave the way for equality in schools across America
The Little Rock Nine was comprised of nine African American students who attended Central High School in Arkansas. Central High School was an all-white school, and their attendance was to test Brown v. Board of Education.
In 1954, on May 17, Brown v. Board of Education ruled that segregation, or Jim Crow Laws, in school was unconstitutional. It wasn't until September of 1957, however, that the Little Rock Nine would be so iconic. In the time between, the NAACP chose students based off of grades and attendance. Several months before the start of school, the NAACP coached the nine volunteers on how to react to the things that would be said and done to them.
"
If we have honestly acknowledged our painful but shared past, then we can have reconciliation"
— Elizabeth Eckford
September 4th, 1957 was the first day of classes at Central High School. However, the Governor of Arkansas at the time, Orval Faubus, called in the Arkansas National Guard to block the entry of the nine African Americans into the school, claiming he wanted to prevent potential violence. Later that month however, President Dwight D. Eisenhower sent in federal troops to escort the Little Rock Nine into the school.
When the nine students were finally able to enter, it was by police escort through a mob of angry people gathered outside. The next day, on September 21, President Eisenhower sent in the U.S. Army's 101st Airborne Division. Despite entering earlier, the students had their first full day of school on September 25.
Out of the nine students, only one was a senior that year: Ernest Green. He was the first African American student to graduate from Central High School, and Martin Luther King Jr. attended the graduation ceremony.
It wasn't smooth sailing in the slightest. Throughout the year, the African American students went through physical and verbal abuse, and one even got expelled for retaliating. At the start of the next year, the governor closed down the school, and on a public vote, stated that African American's couldn't attend. The eight remaining members of the Little Rock Nine all finished their education elsewhere.
Despite everything they went through, the Little Rock Nine were an integral part in the fight for equality, all across America.
Below are the names of the Little Rock Nine:
Minnijean Brown
Elizabeth Eckford
Ernest Green
Thelma Mothershed
Melba Patillo
Gloria Ray
Terrence Roberts
Jefferson Thomas
Carlotta Walls