The Legacy of Betty White
Betty White has graced our screens with her witty humor for over six decades. Therefore we as a community should take time to honor her life and career.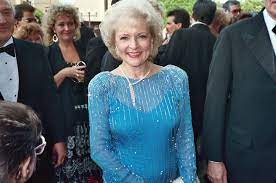 Betty White has graced our television screens for over 60 plus years through films such as, the Betty White show, The Lorax, Hot in Cleveland, The Mary Tyler Moore Show, and the comedy classic of the 80's, The Golden Girls.
When White's life came to a shocking end on New Years Eve of 2021, many of her fans of many generations had a difficult time coping with her death that took place just eighteen days before her 100 birthday celebration.
White was born on January 17 of 1922 in Oak Park, Illinois to a middle class Christian family. When she was slightly over a year old she moved to California where her love for acting and animals grew.
Although she wanted to pursue her career as a forest ranger, women were not allowed to serve that position during her time, so White decided to put her career focuses towards acting, modeling, and volunteering for women's shelters in her area after she graduated high school.
White got her start in the entertainment industry by hosting radio shows throughout the 50's, such as Blondie and the Great Gildersleeve, and she was even offered her own talk show, The Betty White Show, which lasted for one season.
Through the years White made appearances in many films such as, The Carol Burnett Show, and, That's Life, but White was finally going to have an opportunity to display her talents as the star of her show, "Life with Elizabeth."
"Life with Elizabeth," aired from 1953 to 1955 as a rather popular American sitcom that brought humor and comfort to their audiences. The show centered around a young middle-class couple who would often provide their audience humor within their marital conflicts. Although the show was generally well-received by its audience, it was cancelled after only two seasons.
It would be roughly 30 years until White landed her arguably most famous role as the kind, sweet, and dim-whited Rose Nylund on Golden Girls.  Nylund was 55 at the start of the show who captured the hearts of many by portraying an  orphan who eventually was adopted into a loving family who was now a widow of five loving children.
Other than Nylund's naivety, she is also a very domestic woman who explores different activities such as singing, volunteering, animal care, and art.
All in all, White's character was defined by her loving heart which contrasted three other housemates that served as the main characters. The wise Dorothy Zbornak (Bea Arthur), the sensual Rose Devereaux (Rue McClanahan), and the old Italian immigrant wise-cracker Sophia Petrillo (Estelle Getty).
It would be another three decades before White starred in one of her last majorly successful roles as Elka Ostrovsky on the five-year sitcom, Hot in Cleveland. Ostrovsky's character was very similar to Getty's character in Golden Girls. She served as a quick-witted elderly caretaker who was an immigrant from Poland, and viewers got to see a more rebellious side of White's acting in comparison to her character on Golden Girls. Since White played this role in her early nineties. Many of her fans felt a sense of nostalgia seeing White express her talent at such a grand age where media has changed in many drastic ways.
In addition to acting, White used her entire career and celebrity status to become a prominent activist in the entertainment industry who fought for animal welfare, racial justice, and LGBTQ+ rights. By 2009, White served as a president of Morris Animal Foundation, and she was the director for the Greater Los Angeles Zoo Association since the early seventies. Upon her death the Association Society for the Prevention of Cruelty to Animals (ASPCA) tweeted a passionate statement to honor White.
"Betty White was a constant and compassionate advocate for vulnerable animals across the country, and will be greatly missed. We send our condolences to her friends and family." @ASPCA said.
White's activism also extended toward humans as well as animals. On the Betty White Show she received criticism for featuring Arthur Duncan, a black tap dancer. In response to that, she let Duncan have more airtime on her show and she told those who disapproved that they just had to, "Live with it." Unfortunately White's resilience was what led to her show being cancelled after only two seasons.
In addition to that, White has expressed her advocacy for LGBTQ rights saying, " If a couple has been together all that time – and there are gay relationships that are more solid than some heterosexual ones – I think it's fine if they want to get married. I don't know how people can get so anti-something."
Through 60 years White's activism and television career has left her with a grand legacy that nobody could match in many ways. Therefore, White is an outstanding actress that will always live in the hearts of many across the world.