Howdie, Sarah Young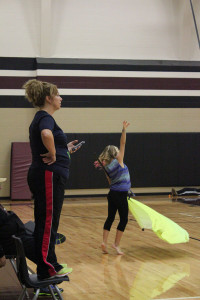 SV:How long have you been in color guard?
 SY:"Since sixth grade, so this is my fourth year."
SV:What is your favorite part of being a part of color guard?
 SY:"Probably the adrenaline rush you get from performing or spending so much time with such a tight knit group of people."
SV:Is your place in color guard affected by your mom being the instructor?
 SY:"Lots of people think  I was the captain or that I keep getting solos because my mom was the instructor, but in  reality it has nothing to do with her. It's just because I'm one of the longest lasting members since Adam and I basically started the guard. It's also because performing is just naturally in my blood and I can really handle anything that's thrown at me and do it well. The instructor just happens to be my mom."
SV:How has your relationship changed with your mom?
SY:"We spend 24/7 together because of guard. We fight a lot during practice, but we're closer than ever."
SV:What have been your favorite shows to perform?
SY:"My favorite shows were probably the first shows we ever had. The first being the winter guard's show from my sixth grade year, "Feeling Good" by Michael Buble. The second would be our marching band half time show from seventh grade which was called "Gift to America"."
SV:Are you involved in anything other than color guard?
SY:"I also play the clarinet in the George Ranch band."
SV:How have you gotten to know the other people in color guard?
SY:"I've become extremely close to almost everyone in guard. We spend so much time together, and with how much we practice, it's almost impossible to become friends with all of them. We're bound to fight at some point, but overall they are absolutely amazing people and I'm blessed to know them!"
SV:How often do you have to practice for color guard?
SY:"At school, we practice for about six and a half hours every week, but out of school, I can't even put a number on how many hours I spend practicing."