Howdie, Leslie Haack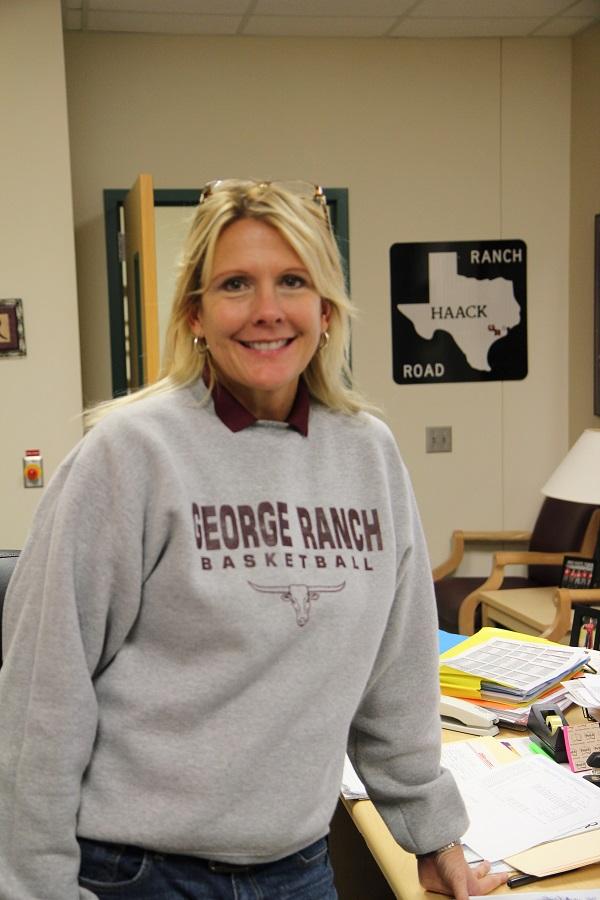 The Wrangler staff is proud to feature the George Ranch Principal Leslie Haack.
Before being the wonderful principal we know today, she started her career in education in 1998 with her first teaching job at Katy Taylor High School. In 2001 she started her school administrator position at Cinco Ranch High School and continued on to work as an administrator at Morton Ranch High School, Sealy High School, and finally here at George Ranch.
"I had been waiting my whole career for this special school (George Ranch)!" Mrs. Haack said.
As Principal, Mrs. Haack's goal is the "creation and sustaining of a school in which students and staff are engaged, involved, successful, and most of all excited about learning."
When Mrs. Haack isn't working diligently to keep this school functioning, her husband and she like to take their travel trailer and go to all kinds of places. But in her extra spare time, she loves to read.
"My Kindle – [My] love!" Mrs. Haack said.
Above all else, Mrs. Haack is proud of the faculty, staff, and the students here at George Ranch.
"I am most proud of George Ranch and the leadership that has emerged among the student body, the academic success of the student body and the success of our extra-curricular programs." Mrs. Haack said. "I believe we are the 'whole package' and it is exciting to be a part of it every day!"