Leandro Lampasona: No Place Like Home
It has been described as one of the most bittersweet moments in life, a time when even the most macho of men can become "overly sentimental". However, moving is actually much more than that. It's about the new and all the possibilities that come with it. Almost every teenager would become alarmed at the thought of simply moving to a new school. Most wouldn't even dare to think about moving to a different country, which is exactly what senior Leandro Lampasona did.
It wasn't always in Lampasona's life plan to move to America.
"At first I was just a tourist," Lampasona said. Unfortunately, his step dad past away last year, leaving Lampasona's mother and brother alone in America. In April of that same year, Leandro made the move from his home country, Argentina, to stay with them.
So far, Leandro has hardly had time to take on the role of an "averaage teenage couch potato". His mom owns a bakery in the Houston area, where Lampasona has spent sometimes ten hours a day working.
Despite this constant workload, Lampasona seems to be enjoying Texas and the southern hospitality it is so famously associated with.
"The people here are weird and crazy, but that's fine, because I am too…it makes me feel welcome," Lampasona said. " It's awesome…it's different though, different culture, different language."
No doubt about it, Texas is a far different place from Argentina. When asked what the hardest thing about coming to America was, it took Leandro less than one second to reply "the language". In Argentina, he learned "a little bit of English, not much".
"I feel really weird, because everyone speaks English and nobody speaks my language…I can't be myself when I speak English… that made me feel really weird," Lampasona said. He does enjoy Spanish class, where he can speak in his own language, and sometimes get a laugh from the other students' accents and interpretation of the language he knows so well.
"I'm not sad. Sometimes I miss Argentina, but I would never go back," said Lampasona. There are certain things about Argentina that Leandro misses: a common language; Argentina fúbol (his country has a very specific style of soccer playing); family and friends; and of course the familiarness. However, according to Lampasona, everything in Argentina is expensive and everyday life is simply different. Even though Leandro is not even slightly considering a permanent return to his home country, he does plan on visiting for holidays to spend time with the rest of his family still living in South America.
"[America is] different…a different culture…that's why I like it so much," Leandro said.
Moving has brought new ideas and new possibilities to Leandro Lampasona, things he may have never imagined when living in Argentina. "[I want to be] a cop or something like that," Lampasona said. He has plans to travel to New York and Las Angeles, exploring America. Lampasona plans on staying in Texas because he says "Texas is awesome."
"The world here…the culture is different, but that's awesome," Lampasona said, "It's a nice country, [and] I'd like to stay here forever."
About the Contributor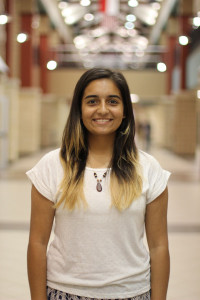 Alesondra Cruz, Staff Writer
Alesondra loves going on adventures and trying new things! She believes that she is probably the nerdiest hip-hop dancer you will ever meet. Alesondra...