Howdie, Sean Mangel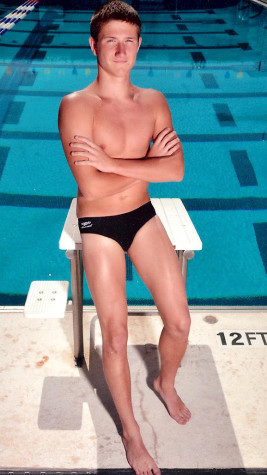 The Wrangler: How did you feel about your high school experience?
SM: It was fun, it was short but it was fun.
The Wrangler: Out of the four years which one was your favorite and why?
SM: Freshman year was probably my favorite cause everything was new.
The Wrangler: How many colleges did you apply to? Do you think you applied to enough or no?
SM: I applied to three and yeah, I got accepted to one and I'm waiting on another.
The Wrangler: What colleges were you accepted to and not accepted to?
SM: I was accepted to Incarnate Word in San Antonio and not accepted to the Colorado School of Mines in Golden Colorado.
The Wrangler: What was your top school that you wanted to get into and why?
SM: Incarnate Word because it was division one and I like the school.
The Wrangler: Did your swimming accomplishments help you with getting into schools?
SM: Yes.
The Wrangler: What are your swimming accomplishments?
SM: Four times All State qualifier, regional medalist, regional champion, district champion, 4x multi district medalist, multiple regional medals, multiple school records, district records and regional records.
The Wrangler: Did you have an adult figure that really motivated you during high school? Who?
SM: Every Olympian, [Coach] Rugaard (GRHS swim coach for 3 years), [Coach] Schramme (R&R Aquatics), and mostly coaches and professional athletes and those kids in college who I want to be like.
The Wrangler: What would have changed during high school to make your experience better?
SM: I'd have focused on academics a little bit more and tried harder in athletics.
The Wrangler: While submitting your applications to various schools, did you feel like you were lacking anything?
SM: Everyone wants a higher SAT score, so I guess I fit that.
The Wrangler: Do you plan to swim again outside of high school? Where and why there?
SM: Yes, in the Coast Guard Academy in Connecticut and I'd like to see what college swimming is like, if it's an entirely different world from high school.
The Wrangler: What is the difference in the application for colleges vs. the coast guard academy?
SM: It's all the same, Coast Guard you had to write a couple more essays, but just about the same thing.
The Wrangler: Do you feel like the academy expects more out of its candidates than a school?
SM: Absolutely.
The Wrangler: If you do not get into the academy what is your back up plan?
SM: Incarnate Word.
The Wrangler: Since you have to wait till April 15 to see if you made it in or not, what is going through your mind during the long wait?
SM: What my options become then if I don't make it.
The Wrangler: What encouraged you to join the coast guard?
SM: I like the challenge, but the honor that come with it, it's not an easy school to get into and you can get a good degree and a good job out of it, hopefully.
The Wrangler: What can you expect once you have been accepted?
SM: The hardest thing I have ever done in my life times ten.
The Wrangler: While in high school, what were some of the challenges you faced?
SM: Trying to succeed while exceeding expectations in a school; that's kind of ridiculous to do in a school where everyone is just as intelligent if not more intelligent than you are.
The Wrangler: If you could go back in time 4 times and visit your freshman, sophomore, junior, and senior year, so visit each year once, what would you tell yourself each year?
SM: Freshman year I would tell myself to get my act together and start paying attention and stop acting up in class and jacking around, put my head down in the books and get those grades up. Sophomore year would be a repeat of the same thing but now I need to start looking at myself and thinking about athletics and how much harder I need to be working and still keeping those grades up. Junior year would definitely be about studying for those SATs and working on those test scores and things like that. And then senior year would be athletics, just work hard, and see if you can scoop up a scholarship.
The Wrangler: Do you think that you are ready to be thrown out into the real world? Why or why not?
SM: Yeah, I can handle it. Am I going to do as well now as I would later with a degree? No. But I could survive, it just wouldn't be a life that you could live on forever.
The Wrangler: What do you plan to major in? Why?
SM: I think everyone in the Coast Guard Academy gets a Bachelor Science Degree so I think I'm going to get the same degree as everybody else.
About the Contributor
Shelbi Mangel, Staff Writer, Business Manager
Shelbi is a senior at George Ranch High School. Along with being a part of the Newspaper staff, she is the Fundraising Chairperson of the National Honors...