Howdie, Paulette Orhii
I was lucky enough to get the chance to sit and chat with a good friend of mine, sophomore Paulette Orhii, recently. She surprised me not only with how much she knew about the world around her, but also how much she cared about it. As a seasoned traveler, Orhii is a cultural junkie always looking for a new way to learn about a culture or help someone in need. I hope you enjoy getting to know this sweet friend of mine better in the article below.
The Wrangler: What organizations are you involved with at George Ranch?
PO: I am in yearbook, Amnesty (International) Club, UNICEF, Spanish IV, and I am going to join the Pre-Med Club.
The Wrangler: Why are you involved with these groups? Are they something you are really passionate about?
PO: For UNICEF, I've always admired the UN and I love children, so I really wanted to be a part of something that honors both of those things.
For Amnesty, who isn't for world peace? I think it is really important to donate money and make a change.
I have always loved Spanish, ever since Spanish I. At first I was supposed to go into French, but I just ended up in Spanish so I was like "Okay, I will just take Spanish". I've actually ended up really loving it. Its something I want to carry with me for the rest of my life.
The Wrangler: So I  heard that you are a Spanish expert. What gives you the motivation to learn and utilize the language so well?
PO: My motivation comes from the fact that we are in Spanish for a reason. It's not something I am supposed to learn and then just walk away from. I like to take substance from the classes I take. I have an opportunity to learn a language, why wouldn't I take that opportunity. I think Spanish is a such beautiful language, and useful too, something that I can take with me to whatever job I do.
The Wrangler: As somebody who went on the Costa Rica trip this year, how do you feel about traveling?
PO: The first time I traveled majorly was in the fourth grade. I went to England on my way to Nigeria. Every since then I have had a passion for traveling. My dad has the opportunity to travel a lot and I want to be just like him when I grow up.
The Wrangler: What are some places you have traveled to?
PO: England, Nigeria, Egypt, Italy, Mexico, Costa Rica, Ghana, France, The Bahamas, Lebanon, Vatican City, and I am going to travel to China, Dubai, Scotland, Ireland, Wales, Spain, and Morocco.
The Wrangler: Are those trips coming up soon?
PO: Yes, this summer.
The Wrangler: Are you going on another group trip?
PO: The EF Trip is to Spain and Morocco. I am also going on a People to People trip, but that isn't with the school.
The Wrangler: What's People to People?
PO: It's an organization where students can get the opportunity to travel to a countries and do more than tourist can do when they travel.  It's an opportunity to make a difference in the world.
The Wrangler : What kind of things do y'all do that makes a difference? What makes y'all different than a tourist group?
PO: We do volunteer work whenever we travel. When we go to Scotland, we will be cutting peat (brown soil-like material). We are going to give it to the neighborhoods nearby, because peat is very important to them. They use it for fire. That's one of the things we will be doing; we will be working on farms too.
The Wrangler: Do you feel that traveling so much has made you aware of world issues and things outside of the United States in general?
PO: Yes, (especially) when I traveled to Lebanon. That was probably the most eye-opening trip I've been on, because they were at war with Israel. It was pretty uncomfortable to be in a country that was at war, but meeting the people, how nice and friendly they were, and seeing their culture made their situation more real for me. It was such a beautiful country and it scared me to think of the fact that it would  be possibly ruined in the war. Another place I learned a lot from was Egypt. Egypt has a high Muslim population. It was cool, because I learned more about their culture just by observing. Ghana was one of the most eye-opening experiences, because I got to see what slaves went through with my own eyes and hear their stories, and once again meet the people and see their culture. Ghana still is one of my favorite countries to go to.
The Wrangler: That is amazing, Paulette. Thank you so much for letting me interview you and I hope you have more amazing travels in the years to come.
About the Contributors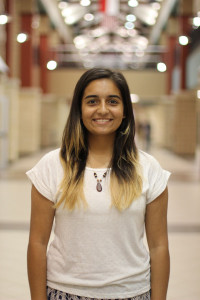 Alesondra Cruz, Staff Writer
Alesondra loves going on adventures and trying new things! She believes that she is probably the nerdiest hip-hop dancer you will ever meet. Alesondra...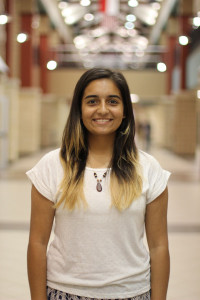 Alesondra Cruz, Staff Writer
Alesondra loves going on adventures and trying new things! She believes that she is probably the nerdiest hip-hop dancer you will ever meet. Alesondra...