The Five "W's" of Google Culture: Where
Moving on in this journey through learning the intricate details of what people search in Google, I researched the top ten results that pop up when you type in "where". They range from silly to rightfully inquisitive, and they depict the perfect representation of day-to-day human behavior by showing the ridiculessness and the seriousness of everyday questions.
"Where is my refund?"
This is a legitimate question that all tax-paying adults feel the need to ask. They can and will get all there money back that the possibly can, every penny counts, even if it is only a few measley dollars from our debt-entrenced government.
"Where is Chuck Norris?"
To use the words of Nochucknorris.com, you cannot find Chuck Norris, Chuck Norris will find you, so stop searching.
"Where is Sochi?"
Sochi, the place where the 2014 Winter Olympics were hosted, is in the safe and politically stable Russia. Yes, we did send our world-renowned athletes to a place where democratic rulers take over their neighboring countries, long-live Putin.
"Where am I?"
If you're ever lost in the middle of nowhere, there are many sites on Google to come to your rescue. They are more than happy to find your location as long as you are willing for them to track you from the moment you allow them to access your location services. Apparently, people get lost a lot more often than I would have realized.
"Where the wild thing are"
This classic tale is one that my mother read to me before bed almost every night. It wasn't until I was older and had watched the movie that I realized just how creepy and strange this story is, but apparently, people still know and love this timeless children's bedtime story.
"Where is Oak Island?"
Well, Oak Island is a sort of treasure island off the cost of Nova Scotia, Canada. Money's money and if there's a chance to make free money, well, it looks like most people would take that chance in a heartbeat. This is proven throuhout more than a century of excavation and drilling, and the result was actually a loss in money, not a gain.
"Where is my state refund?"
There are a lot of questions about where one can find one's refunded money. This, and many other popular searches pertaining to getting one's money back, proves how desperate people are and how much they hate their taxes. There are many sites devoted to the task of getting your money back as soon as possible, and they are happy to assist you in your journey in getting cash back from Uncle Sam.
"Where is Jose Grinan?"
The number one question to this should be, "Who is Jose Grinan and why do people care about his location?" Well, I have an answer for you. Jose Grinan is the morning ancor for Fox 26 news. Jose must be a very talented news ancor and I applaud you for getting up early and watching the news like a good, responsible citizen of the United States.
"Where the Red Fern Grows"
This is a very popular book. A popular book for teachers and elementary libraries, that is. I woud guess that there are two-three reasons why one would search this book:
-(1). You want to spoil the ending for yourself, so you don't have to ball your eyes out through the entire story.
-(2). You have been assigned the book in school are looking up the basic story line in order to avoid actually reading it, but you still still make a good grade on your test.
-(3). You want to find out what the story is about because everyone tells you it is horribly sad, but you've never heard of and/or read it before.
"Where to eat in Houston"
Americans obviously like food, but the fact that Houstonians and tourists care enough about their diets to not settle on mediocre and disgusting fast food and give themselves a chance to eat a little healthier restores some of my faith in humanity. Maybe someday our country will no longer have to fight the battle against obesity…nah, just kidding we'll always be lazy and want to eat things that are bad for us.
About the Contributor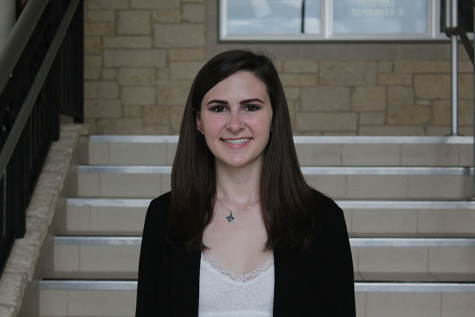 Grace Elliott, Editor-in-Chief
Grace enjoys reading and watching TV in her spare time. In the summer, she loves traveling and hanging out with friends from church and school, and she...