Book Review: "It's Kind of a Funny Story"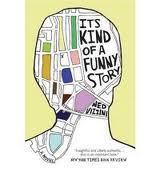 It's Kind of a Funny Story | by Ned Vizzini
Paperback price: $9.99
This kind of funny novel by Ned Vizzini opens on Craig Gilner, dealing with an internal, not-so-funny issue: suicide. All of the pressure from Manhattan, New York's Executive Pre-Professional High School builds up from the unspoken idea that he just isn't good enough. He isn't good enough for the big-shot executives that speak at school, and he isn't good enough for Nia, the gorgeous girl his best, and only, friend is dating. His eating habits go awry, depression sets in and insomnia takes over until one night, the idea settles in his mind to end it all; he plans to leave in the middle of the night and jump to his death off the Brooklyn Bridge.
            However suicidal, Craig Gilner is not one to act on spontaneous ideas without thinking it through. After a call to the suicide hotline, he checks himself in to Argernon Hospital. When offered the option of being admitted into the psychiatric ward, he agrees.
            Craig quickly realizes that he does not belong in the motley family of people trying to heal, like Noelle, the girl who scarred her face with scissors, and his roommate who smells, Muqtada. The minimum check-in time for psychiatric wing is five days, and he finds himself trying to figure his life out in a place where everyone is okay with not being okay. The five-day stay in the psychiatric hospital is full of acceptance, letting go, and healing, paired with the comical humor of the wide variety of neighboring patients in the hospital.
            "It's Kind of a Funny Story" hits the target with just the perfect blend of comedy and drama. Vizzini, having stayed in a psychiatric hospital himself, describes the pressure to be perfect and the tough issues teenagers face along the road to finding themselves well.