Howdie, Jason Hernandez!
The Wrangler sat down with senior Jason Hernandez to talk about life outside of the classroom – life where drumming is the most important thing.
The Wrangler:  What are the extracurricular activities you do?
Hernandez: I play soccer outside of school, but in school I'm in band. That's pretty much it.
The Wrangler: What do you do in band?
Hernandez: I'm drum captain this year and I'm also the band president.
The Wrangler: That's pretty cool. So, what do you as the drum captain?
Hernandez: My whole thing is … I'm basically in charge of the drum line. I make sure everything is in order – keep them in check. I'm basically their principal.
The Wrangler: Nice. What did you have to do to become the drum captain?  
Hernandez: Well, first it starts off with them looking at you since freshmen year. Really, its all leadership and how you act under pressure and stuff like that. But other than that it's skill. And then you got to try out for a leadership role and they pick you for drum captain.
The Wrangler: Does that mean you're pretty much the best drummer in the band?
Hernandez: I mean – for the most part yeah.
The Wrangler: You're also the band President. Did you get voted into that or did they pick you?
Hernandez: I had to apply. I had to write an essay and a whole application for it, and the band directors picked me. It's pretty cool.
The Wrangler: Why don't you play soccer at George Ranch?
Hernandez: I played my freshman and sophomore year then I quit my junior year to focus more on band. Band pretty much takes up all of my time.
The Wrangler: So how do you practice for Band?
Hernandez: We practice every single day till six. And whenever I have the chance at home I'm always drumming on a drum pad I have.
The Wrangler: Take me through your average week of what you would do involving band
Hernandez: Um, Monday we practice during the period  – we have second period band. We have after school practice from four o'clock to seven.
Tuesdays we practice from four thirty to six.
On Wednesdays we don't practice due to a rule that is enforced  – we have eight hours of practice each week.
Thursdays we have practice. Four thirty to six again.
And then Fridays are football games.
The Wrangler: Why do you think you like band so much?
Hernandez: My dad was a drummer, so he got me into the whole percussion scene. I guess it's in my blood. All my uncles do it – my grandpa does it, so I just have a deep passion for percussion and music.
The Wrangler: What else do you do besides drumming and soccer – just in life in general?
Hernandez: I used to skateboard, but I got injured too much. My freshman year I broke my ankle.
The Wrangler: Was that because you weren't good?
Hernandez: [laughs] No, that was actually playing soccer, I broke my ankle playing soccer. I just didn't want to risk it anymore.
The Wrangler: If you had to describe yourself in three word what would they be?
Hernandez: Outgoing, happy, and um … I guess I'm just content. I like where I am.
About the Contributor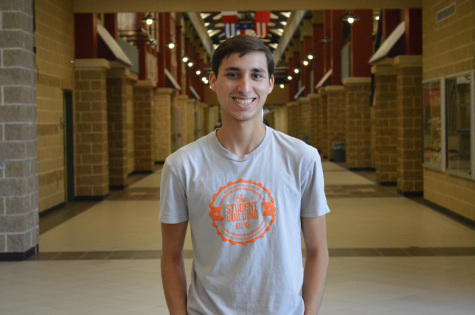 Mario Rodriguez, Staff Writer
Mario is a senior and a second year staff member of the Wrangler. He likes piña coladas and getting caught in the rain (not really). He enjoys Reeses...