Howdie, Mr. Alidor!
I was able to sit down with the awesome English 3 teacher, and brand new assistant soccer coach, Mr. Alidor, and I ended up getting some great feedback to my questions.
The Wrangler: You started teaching here in the middle of the year last year, is there anything you're looking forward to this year that you did not get to experience last year?
Alidor: I'm looking forward to football season, and to the games, because I have yet to go, and I have been told that George Ranch football games are a live event. I missed pretty much all of the fall. Just in general, fall semester is fun and exciting and I missed a lot of things. So football would be the most important thing that I am looking forward to. But I like starting the year with the students, it's more fun and it lets you get a better grip on what students like and don't like.
The Wrangler: So it's better now that you have a chance to start with the students from the beginning?
Alidor: Exactly. So, football season and starting with the kids.
The Wrangler: Where were you and what were you doing before you came to George Ranch?
Alidor: Before I came to George Ranch I was coaching football and baseball in Las Vegas, Nevada. I did three schools in five years, and I bounced around because of coaching positions. New positions would come open and I would bounce if it was a better opportunity. I would try to go higher up on the ladder, and get my own program, and I'm  here now coaching soccer.
The Wrangler: What are the major differences between Las Vegas and here?
Alidor: The school here has such greater expectations for its students. You guys not only want to be here, but you guys have goals, and you have goals that are your own. My students in Las Vegas so often would say "I don't know what I want to do," and they never thought about college. While here, there are second-semester seniors starting that process, so that's the major difference. Other than that, the heat. The humidity. I'd forgotten about the humidity here. I grew up in the south and I had forgotten about it.
The Wrangler: Where did you grow up?
Alidor: I grew up in Alabama. So I was born and raised there and then went to college at LSU. So I have grown up in the south.
The Wrangler: You said you were coaching soccer this year, how did that happen? Who approached you?
Alidor: I was actually approached by Coach Torres, because he's the head coach of the varsity program. He was aware that I had played before and he was aware that I had coached other sports. There was an opening, and we kind of had a 10-minute conversation, and he was like "would you be interested?" And I said, "sure, do I have to interview for it, or do I need to talk to Mrs. Haack, or what," and he goes "well, we'll set it up." Three days later, Coach Tullos is telling me, "Hey, so I hear you're the new guy." And so apparently it had happened. It's cool, it was the most chill interview I'd ever had. I didn't have to prepare this super big practice plan like I had done for other jobs, but I think that's the difference between George Ranch and other schools. You guys take things seriously, you're not interested in the presentation, you just want to know: is somebody going to get down to work, and I like that. The whole "we win at The Ranch" thing is very real. I believe in it. I love it.
The Wrangler: You said you coached football and baseball, have you ever coached soccer before? What is your experience with it?
Alidor: I had never coached soccer before, but I have played since I was four, and I was a varsity member in High School. I love the sport, it's just that everywhere I have gone there has been a coach in place already, and every time I was brought to a school it was to coach football or baseball, so soccer positions never came up. It just kind of fell into place that if I ever coached again, I'd like to do soccer, because it's my better sport and it's something that I grew up playing and love. I was very fortunate that Coach Torres had an opening. I like it a lot.
The Wrangler: Are you excited for the upcoming soccer season?
Alidor: Oh, yeah. I think we've got a lot of talented kids. It's just getting that talent to play together. So I'm excited for it because once talent gets comfortable, you can't stop it. We just have to get them to play together, and they could really be solid. So yeah, I'm pumped.
The Wrangler: Hopefully I'll be able to come to the games, because I really enjoy the soccer season.
Alidor: Well I'm down for it. I want people to be there. I want the hype that comes with the football games and the baseball games to come to us, and I know that takes time, but I want our guys to play packed out stadiums. I want the guys to see more than just the moms and dads in the crowd. To have the Rowdies there, and to have those people there, it's important and it really gets you hyped for big games, you know, against Foster or against Terry; our rivals. You need that.
The Wrangler: Well hopefully it will get there, and we can get the Rowdies to start coming.
Alidor: Well you guys have a good section, and I saw it last year at baseball. Y'all have a good section.
About the Contributor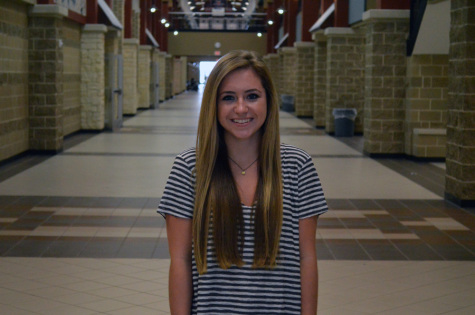 Michaela Norris, Staff Photographer, Writer
Michaela is a senior and a first year staff member for The Wrangler. She enjoys listening to live music, binge watching her favorite TV shows, and reading...