Howdie, Christian Weelborg!
We sat down with senior Christian Weelborg to talk about his experience moving to the Ranch, how he came to be a multi-instrumentalist, as well as what he likes to do to further himself in his musical career.
The Wrangler: Let's get started. You don't look familiar, did you just move here?
Weelborg: Yes. Just a week before school started.
The Wrangler: So where did you come from?
Weelborg: South Dakota.
The Wrangler: So it was a huge difference. What was that like, moving from South Dakota to Texas?
Weelborg: It's a lot hotter here.
The Wrangler: Yeah, definitely. So tell me about the instruments you play, how many do you know how to play and what are they?
Weelborg: Okay, the main instruments I play are piano and cello. Those I've been taking private lessons for for over 5 years each. I've taken 8 years of cello, and I've won many competitions.
The Wrangler: Oh really? What kind of competitions? National?
Weelborg: Not national, but they were regional competitions, they didn't have a national version. But I won first place and second place consecutively. So first place the first year, and second place the second year.
The Wrangler: Oh that's really cool. How old were you when you competed in those?
Weelborg: That was 4 years ago and 3 years ago.
The Wrangler: How old were you when you first began playing — what sparked your interest?
Weelborg: I had to decide between soccer and music, and that was when I was in elementary school and so that was when I was in third grade. I liked the music teacher there, so I started to learn and I didn't have a cello teacher until middle school.
The Wrangler: Would you say this is a passion of yours? Something you could see yourself pursuing later in life?
Weelborg: Possibly, yeah.
The Wrangler: Do you have any other hobbies?
Weelborg: Not really. I like to teach myself to play different instruments and different music. I've tried some songwriting, but I'm not too good at it.
The Wrangler: Could you see yourself recording your music?
Weelborg: Yeah, for cello or piano.
The Wrangler: So do you play classical music mainly?
Weelborg: Yeah, mainly classical, but I have taught myself some pop songs, like "Viva la Vida" and so on – that's on piano.
The Wrangler: What other instruments do you play besides the piano and cello?
Weelborg: I can play violin, viola, and bass because a lot of my friends play them, but I'm not that great at them. I own my own electric cello, I taught myself to play that. I can play the electric guitar and acoustic guitar, I own both of those. What else? I have learned to play the ukelele too.
The Wrangler: That's really neat! Personally, I can only really play the cymbal or something like that.
Weelborg: (laughs)
About the Contributor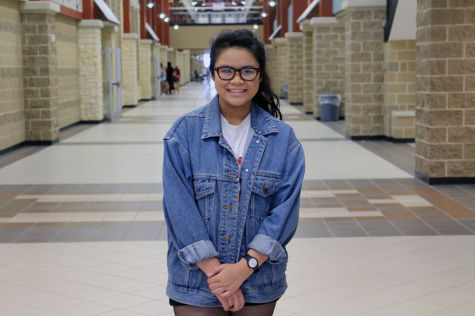 Julia Nguyen, Staff Writer
Julia is a senior at George Ranch HS that loves Lord of the Rings, Bright Eyes, and Jordan Bradley. Her hobbies include drawing, reading, writing, and...