Howdie, Grace Braun!
The Wrangler interviewed 13 year old sophomore, Grace Braun about her school life and this is what she had to say.
The Wrangler: What is school like being a 13 year old sophomore at GRHS?
Braun: Being a 13-year-old sophomore is  a lot of fun! It's always really cool seeing peoples' reactions when they learn about my age, and it's nice to have an excuse to be immature once in a while. Sometimes I feel like I have a reputation for academic excellence to uphold, but it's generally a really cool gift to have.
The Wrangler: How do you handle after school activities and classes? 
Braun: Handling after school activities can be a chore. I'm in color guard and play piano, and balancing those two with schoolwork can be pretty hard sometimes. Normally, I'll have guard rehearsals after school, and I'll do my homework during school or after I get home. I try to get as much of my work done at school as possible, but I'll almost always have more to do at home.
The Wrangler: What's your favorite thing to do that doesn't involve school?
Braun: My main activity is color guard; it requires such a time commitment that it takes up most, if not all, of my free time. As already mentioned, I play piano and try to practice when possible. Other than that, I have always loved reading, and my family is a lot of fun to hang out with even though they can be a little crazy sometimes.
The Wrangler: What college would you want to go to in the future and why?
Braun: I would like to go to Rice University or Harvard (law school). These schools have an appeal to me because they're exceptional colleges, and the fact that the acceptance rate is so low is kind of a challenge to me.
The Wrangler: If you could have anything in the world what would it be?
Braun: If I could have anything in the world, it would probably be more free time or a huge library filled with good books. I'm a bit of a bibliophile.
About the Contributor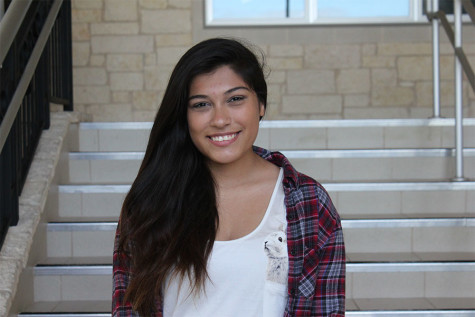 Mikayla Santana, Staff Photographer
Mikayla is a senior here at George Ranch and it's her second year on The Wrangler. She loves taking pictures.  She is sweet and funny and loves to...